SOFTWARE LIBRE
by Sebastián Camilo Niño LInares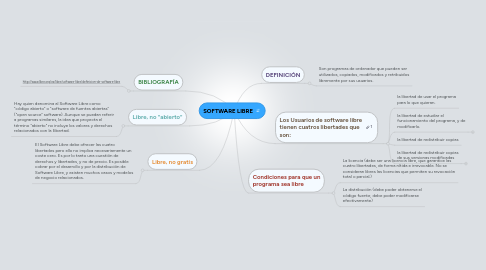 1. Libre, no "abierto"
1.1. Hay quien denomina al Software Libre como "código abierto" o "software de fuentes abiertas" ("open source" software). Aunque se puedan referir a programas similares, la idea que proyecta el término "abierto" no incluye los valores y derechos relacionados con la llibertad.
2. BIBLIOGRAFÍA
2.1. http://www.libre.org/es/libre/software-libre/definicion-de-software-libre
3. Condiciones para que un programa sea libre
3.1. La licencia (debe ser una licencia libre, que garantice las cuatro libertades, de forma nítida e irrevocable. No se consideran libres las licencias que permiten su revocación total o parcial.)
3.2. La distribución (debe poder obtenerse el código fuente, debe poder modificarse efectivamente)
4. DEFINICIÓN
4.1. Son programas de ordenador que pueden ser utilizados, copiados, modificados y retribuidos libremente por sus usuarios.
5. Los Usuarios de software libre tienen cuatros libertades que son:
5.1. la libertad de usar el programa para lo que quieran.
5.2. la libertad de estudiar el funcionamiento del programa, y de modificarlo.
5.2.1. INS to insert (Windows)
5.2.2. TAB to insert (Mac OS)
5.2.3. ENTER to add siblings
5.2.4. DEL to delete
5.2.5. Press F1 to see all key shortcuts
5.3. la libertad de redistribuir copias
5.4. la libertad de redistribuir copias de sus versionas modificadas
5.4.1. Online Help
5.4.2. Use Cases & Templates
5.4.2.1. Personal Todo List
5.4.2.2. Vacation Planning
5.4.2.3. Meeting Minutes
5.4.2.4. Project Plan
5.4.2.5. more...
5.4.3. Tools and Gadgets
5.4.3.1. Offline Mode
5.4.3.2. Geistesblitz Tools
5.4.3.3. Email & SMS Gateways
5.4.3.4. Offline Mode
6. Libre, no gratis
6.1. El Software Libre debe ofrecer las cuatro libertades pero ello no implica necesariamente un coste cero. Es por lo tanto una cuestión de derechos y libertades, y no de precio. Es posible cobrar por el desarrollo y por la distribución de Software Libre, y existen muchos casos y modelos de negocio relacionados.