software libre
by nayibe parra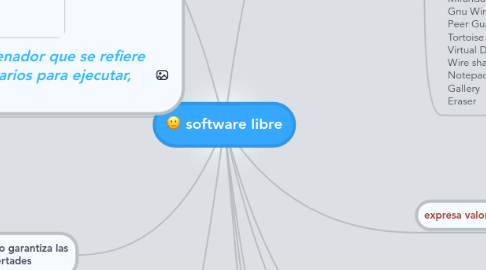 1. son programas de ordenador que se refiere a la libertad de los usuarios para ejecutar, distribuir o copiar.
2. es libre cuando garantiza las siguientes libertades
2.1. utilizar el programa con cualquier proposito
2.2. poder estudiar el programa y modificarlo al modo de cada usuario
2.3. realizar y distribuir copias del programa
2.4. mejorar el programa y hacerlos públicos para las demás personas
3. condiciones para que sea libre
3.1. la licencia
3.1.1. debe ser libre y tener las 4 libertades y ademas que sean irrevocables
3.2. la distribicion
3.2.1. tener al absceso de código fuente y poder modificarlo
4. cambios mas significativos estos son los enlace que se an ido cambiando
4.1. version 1.122
4.2. version 1.111
4.3. version 1.105
4.4. version 1.92
4.5. version 1.90
4.6. version 1.89
4.7. version 1.80
4.8. version 1.77
4.9. version 1.74
4.10. version 1.57
4.11. version 1.46
4.12. vercion 1.41
4.13. version 1.40
4.14. version 1.39
4.15. version 1.31
4.16. version 1.23
4.17. version 1.16
4.18. version 1.11
5. una parte muy significativa debe ser que los manuales del software tiene que ser libres
6. uno de los eslogan mas importantes
6.1. "libre como en libertad"
7. la palabra "abierto" no se refiere a "libertad" tiene un significado muy diferente aclaro esto como tal porque los usuarios confunden mucho estas dos palabras y obtienen problemas con el tipo de software,porque piensan que es gratis.
8. ejemplos
8.1. Audacity Accepting Ares Galaxy Shareaza GTK+ and The GIMP installers for Windows DC++ Zip Pidgin Virtual Dub C Dex eMule Plus Azureus Php BB Guliverkli Bit Torrent A MSN Tight VNC Win SCP JBoss.org File Zilla PDF Creator Ultra VNC ZSNES NASA World Wind Ghost script Php My Admin AC3Filter PortableApps.com: Portable Software/USB ABC [Yet Another Bit torrent Client] Dev-C++ eMule Morph Clam Win Free Antivirus Simple Directory Listing Min GW – Minimalist GNU for Windows Ffd show XAMPP DOS Box DOS Emulator Media Coder eMule X treme Mod Web min Visual Boy Advance Miranda Gnu Win Peer Guardian Tortoise SVN Virtual Dub Mod Wire shark Notepad++ Gallery Eraser
9. bibliografias
9.1. http://www.gnu.org/philosophy/free-sw.es.htm
9.2. http://ejemplosde.org/informatica/ejemplos-de-software-libre/
9.3. http://es.wikipedia.org/wiki/Software_libre
10. expresa valores
10.1. como la ética ,creatividad, eficiencia colaboración, seguridad, privacidad y ante todo libertad
11. lo desarrollan fundaciones como SFS y usuarios como: PHP,KDE, GNU, SQL, WINDOUW MAKER ENTRE OTROS.