Anna Zizzo Browser Wars
by
Anna Zizzo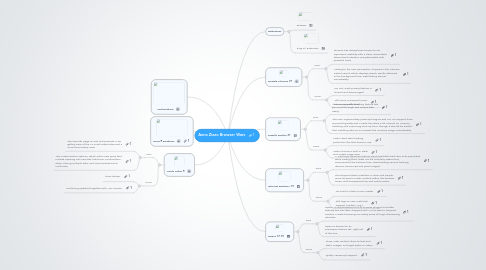 0.0
stars - reviews range from
0
to
5
Definitions
Browser
Plug In/ Extension
Google Chrome 27
Pros
Chrome has always been known for its impressive usability with a clean minimalistic streamlined interface complemented with powerful tools.
Adding to the user perception of speed is the Chrome Instant search which displays search results obtained in the background from web/history almost immediately.
Cons
Do Not Track privacy feature is buried and discouraged.
Still some occasional minor site incompatibilities.
Mozilla Firefox 21
Pros
The new Smooth Scrolling feature lets you scroll through and access tabs easily.
The new Jagermonkey javascript engine and HTML5 support have improved greatly and Mozilla has done a lot of work on Memory handling and improving Start-up time, though it should be added that installing add-on's increases the memory usage considerably.
Cons
Lacks client-side tracking protection like that found in IE9.
Lacks Chrome's built in Flash and Instant page view.
Internet Explorer 10
Pros
A Tracking Protection feature which blacklists bad sites auto-populates while visiting them (sites can be manually added too) and prevents the browser from downloading various tracking devices (JavaScript and pixel images).
The stripped down interface is clean and simple, more focused on web content within the browser frame, with transparent top and side borders.
Cons
No built in Flash or PDF reader.
Still lags on new Web tech support (WebGL, e.g.).
Opera 12.10
Pros
Opera 12 implemented Out-of-Process plugins for better stability but was later dropped with v12.02 due to frequent crashes. Private browsing can safely erase all logs of browsing activities.
Opera is known for its impressive feature set, right out of the box.
Cons
Strips Web content down to text and static images, so forget audio or video.
Spotty JavaScript support.
Apple Safari 5
Pros
The new tab page is vivid and presents a 3D gallery view of the 12 most visited sites and a cover flow history view.
The customization options, which add a new spicy feel, include opening into new tab, tab focus, confirmation when closing multiple tabs, and visual indicators for multi-tabs.
Cons
Slow startup.
Not being updated together with Mac version.
Marketshare