Proyecto: Uso de Herramientas de la nube para personal de DIGEBI
by Lucky Martinez de Gamboa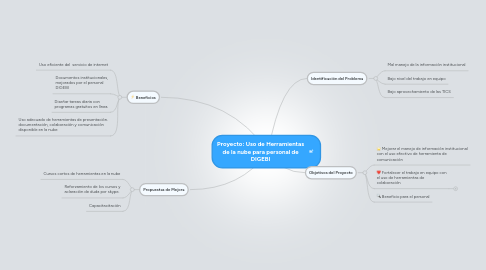 1. Propuestas de Mejora
1.1. Cursos cortos de herramientas en la nube
1.2. Reforzamiento de los cursos y aclaración de duda por skype.
1.3. Capacitacitación
2. Identificación del Problema
2.1. Mal manejo de la información institucional
2.2. Bajo nivel del trabajo en equipo
2.3. Bajo aprovechamiento de las TICS
3. Objetivos del Proyecto
3.1. Mejorar el manejo de información institucional con el uso efectivo de herramienta de comunicación
3.2. Fortalecer el trabajo en equipo con el uso de herramientas de colaboración
3.2.1. INS to insert (Windows)
3.2.2. TAB to insert (Mac OS)
3.2.3. ENTER to add siblings
3.2.4. DEL to delete
3.2.5. Press F1 to see all key shortcuts
3.3. Beneficio para el personal
4. Beneficios
4.1. Uso eficiente del servicio de internet
4.2. Documentos institucionales, mejorados por el personal DIGEBI
4.3. Diseñar tareas diaria con programas gratuitos en línea.
4.4. Uso adecuado de herramientas de presentación. documentación, colaboración y comunicación disponible en la nube