Human Performance Technology
by
Chuck Herbst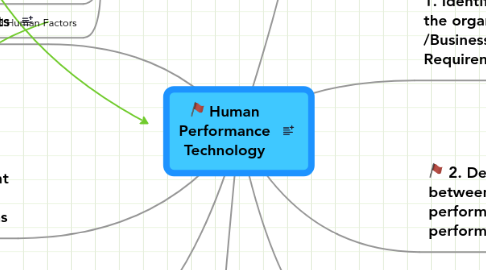 5.0
stars -
1
reviews range from
0
to
5
Human Performance Technology
According to ISPI (International Society for Performance Improvement) - Human Performance Technology (HPT), a systematic approach to improving productivity and competence, uses a set of methods and procedures -- and a strategy for solving problems -- for realizing opportunities related to the performance of people. More specific, it is a process of selection, analysis, design, development, implementation, and evaluation of programs to most cost-effectively influence human behavior and accomplishment. It is a systematic combination of three fundamental processes: performance analysis, cause analysis, and intervention selection, and can be applied to individuals, small groups, and large organizations.
1. Identify Goals of the organization /Business Requirement
Proactively
Reactively
2. Define Gap between desired performance & actual performance
Businesses do not place enough importance on the Human Performance process.  Most of the time they start off with step number two and skip straight to step 4 and 5 because they assume it is a training issue or training can fix the problem.  They tend to skip step number three and miss out on the opportunity to uncover the true root cause.
Magnitude
Value
Urgency
3. Identify the cause of the performance gap
Peformance Analysis
Cause Analysis
Importance
4. Select appropriate solutions
Intervention selection
Development
5. Implement the interventions
Planning
Execution
Support
6. Evaluate the results
Evaluation is done throughout the process
Monitor
Maintain
Evolution/History
Learning Psychology
Instructional Design
Analytical Systems
Cognitive Engineering
Information Technology
Ergonomics and Human Factors
Roles in the Workplace
Human Resource managers
L&D Designers
L&D Faciliators
Performance Advisor
Adoption and Practice Management
L&D Developers
IT support