ESCAPE ARTISTS
by
Matthew Taylor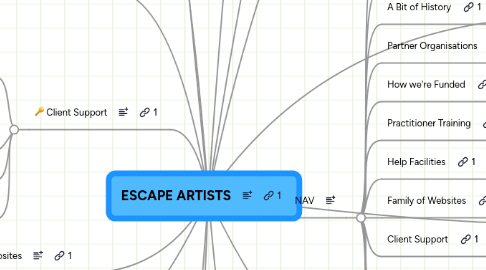 5.0
stars -
1
reviews range from
0
to
5
Escape Artists is a socially inclusive arts organisation that was established in 1996. The company's main office is in London, but it also has a small office in Cambridge
We work with a wide range of client groups, including: prisoners, ex-prisoners, young offenders, young people at risk, hospice patients, mental health care patients, hospital patients and the homeless
Learning Pathways
The Passport
Mentoring
The Bridge is the company's model of socially inclusive arts practice.
Embedded Learning
Joint Fund Raising
Staff Training
Learning Passport
Escape Artists trades under a number of different names. We do this because, although the services we offer are quite limited, we are operating in a wide range of sectors, all with their own expectations and 'languages'. The websites that we have created simply help us to communicate better within the sectors that we operate in. 
This is the home website of Escape Artists.
Escape Artists took over Insight Arts, a socially inclusive arts company, in 2007. EA is refocusing the work of Insight Arts on working in the areas of Probation and crime prevention in th community.
This is a website that provides information to people working in the criminal justice sector about the sector specific services that Escape Artists can provide.
Special Arts is the name of our Web Office facility: the administrative hub of the company.
Beats Learning is a website designed to promote our services within the formal education sector.
The City Wakes website provides information about The City Wakes - A Tribute to Syd Barrett. TCW is a multi-media production involving performances, music downloads, an exhibition and a book.
The City Wakes - A Tribute to Syd Barrett, is the company's current production. The first professional production of TCW is scheduled for Oct 08 as part of Cambridge University's 'Festival of Ideas'.
The Rappers' Opera
The Rappers' Opera is at an early stage of development. It's loosely based on John Gay's Beggars' Opera and is being workshopped in the Criminal Justice System.
This play is under development. EA has the English language performance rights. It was originally produced in Italy.
Produced in 2005, Cambridge Cantata was a big success that we hope to repeat - but maybe at another venue (not King's College Chapel).
The Board
Core Team
Freelancers
Trainees
Interns
Patrons
Consultants
On Secondment
Volunteers
Escape Artists (incorporating Insight Arts and also trading under the names of Beats Learning and Prison Arts Services) is a registered charity and company limited by guarantee.
The company Business Plan is designed to take us through to FY 10/11.
All company policies can be found here
A Web 2.0 Enabled Social Enterprise
An Adhocracy
Social Inclusion Objectives
Screencasts are short videos that act as guides to using various parts of the company's online management system.
The Knowledge Base
The Knowledge Base can be accessed from within Web Office. It contains over 200 entries relating to our management systems and other matters.
Web Office Helpline
For technical problems relating to Web Office, there is an online support system (open from 2pm to 10pm). The help service can be accessed from the Web Office homepage.
Other People
Don't be shy! If you get stuck, ask someone for help. If there's no one around, you can always try to get someone on Skype or the company mobiles (numbers on the homepage of Web Office).
Intro
Appraisal
The company has its roots in a drama group that was established by serving prisoners at HMP Wayland in the early 1990s. Escape Artists was set up as a charity in 1996
At the Royal Opera House
Escape Artists presented the first ever non-lyric drama at the Royal Opera in 2000: a three week of the company's self created drama, 'Blagger'.
European Work
The company has regularly worked in Italy, having been there nearly every year since 1998, and has also contributed to projects in Germany, Austria and Sweden
Arts@the Edge
Arts @ the Edge incorporates festivals, conferences and workshops. There have been 3 Edge events in Cambridge and 3 in Rome
The Cambridge Cantata
The company produced the Cambridge Cantata in 2005 in Kings College Chapel. The performance sold out and received a standing ovation.
In 2007 Escape Artists was invited to take over one of the most long established arts and social inclusion companies in the UK: Insight Arts
Besides building the company's own websites, EA has also built the websites for the UK's umbrella organisation for arts in the criminal justice system: The Anne Peaker Centre
The company's first production was Pinter's 'The Dumb Waiter'. Harold Pinter attended a performance of this play and afterwrds said: This is an excellent production of the Dumb Waiter. (find rest of quote)
Mentoring
Social Inclusion Practice
Penrose
The Resource Centre
Cambridge Regional College
Sue Ryder Care
Engineering Dept at Cam Uni
Festival of Ideas
Contracts
Trusts and Foundations
Friends Scheme
Sales
Marketing
Tickets
Induction
Appraisal
Finances
Reports
Knowledge
Data
Information
Graphics
Images
Fonts
Stats
Publishing
Form Designer
Newsfeeds
Video Editing
Picture Editing
Company Van
Musical Equipment
IT Equipment
Film-making
Web Design
Assets Database
Education
Finance
Training
Mentoring
Online Systems
Productions
Marketing
Assistive Music Technology
People
NAV
Click on the grey arrows to go directly to a subject area of the map. Click on the grey arrow on the subject's main branch to return to NAVIGATE