WEB 2.0
by Gojko Mitrovic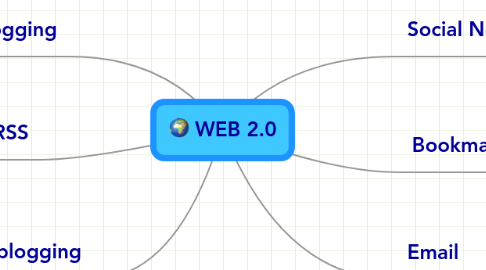 1. Blogging
1.1. Wordpress
1.1.1. A semantic personal publishing platform with a focus on aesthetics, web standards, and usability.
1.2. Blogger
1.2.1. Blogger is a free blog publishing tool from Google for easily sharing your thoughts with the world
2. Microblogging
2.1. Pownce
2.1.1. Pownce recently launched a micro-blogging platform with added functionality. On top of messaging, users can quickly and easily share links, files, or events with any or all of his/her contacts.
2.2. Twitter
2.2.1. Twitter is without a doubt the best way to share and discover what is happening right now.
2.3. Tumblr
2.3.1. Tumblr is a blogging platform that allows users to post text, images, video, links, quotes, and audio to their tumblelog.
3. RSS
3.1. Feeddemon
3.1.1. FeedDemon. Simplify the way you read the web! FeedDemon makes RSS news feeds as easy to access as your email.
3.2. Google Reader
3.2.1. Read them in one place with Google Reader, where keeping up with your favorite websites is as easy as checking your email
3.3. Feedrollpro
3.3.1. Publishers, FeedrollPro makes it easy to syndicate your headlines on other web sites
4. Social Networking
4.1. Last.fm
4.1.1. The world's largest online music catalogue, with free music streaming, videos, pictures, charts, artist biographies, concerts and internet radio. Compare music taste with your friends!
4.2. Facebook
4.2.1. Facebook is a social utility that connects people with friends and others who work, study and live around them. People use Facebook to keep up with friends and familly.
4.3. Myspace
4.3.1. See what's happening on MySpace! Find friends & classmates, meet new people, listen to free music & build playlists, share photos, watch videos ...
5. Email
5.1. Hotmail
5.1.1. Messenger is really about people - so the web version is now built into Hotmail and the rest of Windows Live. Go to http://people.live.com to see who's online.
5.2. Yahoo
5.2.1. Get free web-based email from Yahoo! Access email from anywhere, enjoy unlimited storage space, and feel secure with award-winning spam protection.
5.3. GMail
5.3.1. Gmail is built on the idea that email can be more intuitive, efficient, and useful. And maybe even fun. After all, Gmail has: less spam, mobile access, a lot of space.
6. Bookmarks
6.1. Delicious
6.1.1. Keep, share, and discover the best of the Web using Delicious, the world's leading social bookmarking service.
6.2. Faves
6.2.1. Sites you'll love, from the people like you. Social Bookmarking site.
6.3. Jumptags
6.3.1. Jumptags.com is a revolutionary Web 2.0 social bookmarking web service for collecting, storing, sharing and distributing web bookmarks.