SKYPE- proizvodi
by
P Rovjere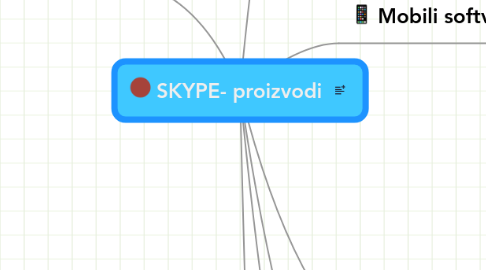 0.0
stars -
0
reviews range from
0
to
5
SKYPE- proizvodi
Skype je program za besplatno video telefoniranje. Ono što ga posebno krasi je to što je za razgovor dovoljno i 56k (dial-up). Program se veoma lako instalira, tako da već posle samo nekoliko minuta, možete pozvati Vaše prijatelje - naravno, pod uslovom da koriste Skype. Moguće je nazvati bilo koji fiksni ili mobilni broj, ali ova usluga se naplaćuje. Program podržava i razmenu tekstualnih poruka (chat), kao i razmenu fajlova. Skype podržava i konferencijsku vezu, tako da u razgovoru mogu da učestvuju 5 osoba.
PC Softver
Operativni sistemi
Mobili softver
Skype Windows Mobile
Skype for Nokia Series 60 (Symbian)
Skype for iPhone
Skype for PSP
Skype for Android
Pretraga
People Search
Business Directory Search
Mrezni servisi
SkypeIn - Online brojevi
SkypeOut
Authentication
Backup
Voicemail Hosting
Commerce
Extras Publishing
Skypeweb Presence
Skype To Go
Developer Products
Skype Client API
Skype MID SDK
SILK codec SDK
Skype for Asterisk SDK
SkyHost SDK
SkyHost is a basic Skype client that provides an API to write user interfaces. It is mainly targeted at embedded devices. This SDK release contains SkyHost binary, documentation and tools for porting SkyHost on a new device
Skype Kit SDK
"The Skype Kit provides a mechanism for 3rd party applications to use Skype functionality, such as making calls, participating in Skype conversations, etc. In the past, Skype has had several APIs, fairly similar but for different purposes. The Public API for integrating 3rd party applications into Skype client and the Embedded API, which has a separate Skype runtime, for building 3rd party Skype clients on non-desktop devices. The Skype Kit will provide a unified API for both these cases, whilst also making it possible to develop standalone applications on desktop platforms that are not dependant on the presence of a full-blown Skype client. Additionally, standalone desktop clients will have access to several Skype features that were previously unavailable with the Public API, such as programmatic login and account creation."
Prodavnica
Skype prodavnica
Dileri
IZDVOJENO
Glasovne poruke (Skype Voicemail)
Konferencijski razgovori (sa najviše 9 drugih osoba)
Chat (besplatno slanje i primanje tekstualnih poruka)
Razmena fajlova
Jeftino slanje SMS poruka