Experienta HRemotion
by
Traian Bruma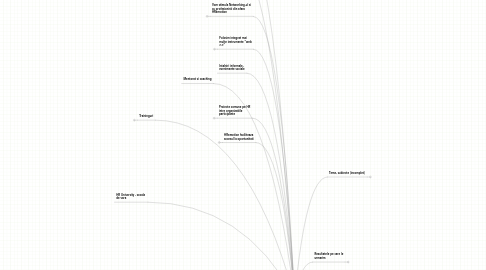 0.0
stars -
0
reviews range from
0
to
5
Experienta HRemotion
Intalniri de schimb de experienta
Integrare
Recrutare
Learning & Development (Training)
Motivare
Alumni
Alumnii reprezinta o resursa extrem de valoroasa pentru organizatii, dar putine sunt cele care au plan coerent de "exploatare" a acesteia. Unii dintre ei au continuat pe piata fortei de munca ceea ce au facut in organizatie. Ei pot ajuta prin traininguri, recomandari, networking etc.; important e ca membrii actuali ai unei organizatiilor sa le construiasca rolurile potrivite.
Evaluare
Incercam sa dam definitia performantei in cadrul unei organizatii studentesti si vorbim despre metodele de evaluare cele mai folosite.
Knowledge transfer
Cautam cele mai bune metode prin care se face transferul de cunostinte intre membri, in si intre departamente si intre generatii.
Evaluare HReMotion
Facem bilantul anului 2009/2010. Evaluam obiectivele individuale si de proiect.
Traininguri
Soft Skils
Web 2.0 Basic Tools
Time management
Abilitati de prezentare, vorbit in public
Leadership
Personal branding
...
HR
Cultura invatarii in organizatii
Cultura Organizationala
Recrutare si selectie in ONGS-uri
Mentorat si coaching
Intalniri informale, evenimente sociale
HR University - scoala de vara
Proiecte comune pe HR intre organizatiile participante
Petreceri comune de ONGSisti
Traininguri la care participa membrii din mai multe ONGSuri
Realizarea in comun a unor instrumente de HR
Folosim integrat mai multe instrumente "web 2.0"
Blogging
Microblogging - Twitter
Retea sociala dedicata (Ning)
Social bookmarking (Delicious)
RSS (Google reader)
Wiki (Google sites)
Google group & Google Docs
Google Calendar
Vom stimula Networking-ul si cu profesionisti din afara HRemotion
Traineri
HR Profesionals
Experts and Researchers
Consultanti
Business
HRemotion faciliteaza accesul la oportunitati
Le obtine echipa de proiect prin parteneriate
Exemplu: Trainingurile oferite de HR Vocational School
Vin natural din comunitate
Scoala de HR ASPSE
Career Shop - BOS
ResUmE - DaAfaceri
SV Next Generation - HRClub
Procese
Autonomie in invatare = iti vei directiona singur procesul de invatare
Plan de dezvoltare, Autoevaluare la inceput, Obiective clare, Strategii, Sustinut de activitatile si resursele din HRemotion, Mentorat si coaching, Feedback si ajutor reciproc, Traininguri, Schimb de experienta, Acces la oportunitati, Networking si cu oameni din afara, ....
Personal learning environment, Educause - 7 things you should know about PLE, Personal Knowledge Management, Vei invata sa folosesti diverse instrumente pentru a avea un mediu de invatare personal cat mai bogat, eficace si eficient
Autoevaluare, HRemotion ofera instrumente
Personal manangement
Reflectie asupra propriilor experiente
Scris pe blog
Citesc mai mult
Relatie foarte buna intre membrii HRemotion
Feedback si ajutor reciproc
Ne motivam si ne inspiram reciproc
Sentiment de apartenenta
Schimb de idei, experiente si informatii
Conferinte, evenimente, traininguri
Scriem pe blogurile noastre despre experientele pe care le avem
Articole, carti, etc
Conversatii bogate
Spatiu de experimentare
Dezvoltam impreuna resursele comunitatii
Design de training; putem si livra traininguri impreuna pentru membrii din departamentele de HR
Liste, Cabane de teambuilding, Cursuri, traininguri si scoli de vara pe HR, ..., Carti bune pe HR, Site-uri si bloguri de urmarit, Oameni de urmarit, Traineri
Instrumente de HR - Formulare, ghiduri, tutoriale
Wiki
Instrumente de HR
Networking
Personal branding
Rezultatele pe care le urmarim
Competente pentru membrii HRemotion
Cunostinte, Despre oameni, nevoi si motivatii, diferente de personalitate, temperament, gandire, stiluri de comunicare, invatare, Despre cum lucreaza ei in echipe si in organizatii, Instrumente de HR, Fisa de post, Evaluarea membrilor, web 2.0, ..., Responsabilitatile HR, Recrutare, Integrare, Teambuilding, Perioada de proba, Learning & Development, Alumni, Motivare, Transferul de cunostinte, Evaluare, Dezvoltarea culturii organizationale, Suport pentru echipele de proiect si pt alte departamente, Despre Organizatii
Atitudini
Valori
Abilitati, tehnice, Sa folosesti instrumente de comunicare si colaborare (de la retele sociale la editare video), Self Management, Time management, Inteligenta emotionala, Autocunoastere, Automotivare, Atitudine pozitiva si deschisa, Invatare autonoma, Leadership, Sa oferi inspiratie si viziune. Sa conduci prin exemplu, Comunicativ, deschis, sa genereze incredere, sa transmita energie si entuziasm, pasiune;, Sa motivezi si sa responsabilizezi oamenii, Strategie, Managementul conflictelor, teambuilding, coaching, mentoring, Comunicare, Stii sa formulezi un mesaj, Sa scrii, Multimedia, Vorbit in public, Comunicare interpersonala, Asertivitate, Ascultare activa, Personal Branding, Management (de proiect) ... adica sa organizeze:, un teambuilding, o sedinta, un training, perioada de proba/integrarea membrilor, recrutari, alumni meenting, evaluari, evenimente sociale, Facilitare / training, Traininguri, Sedinte, Teambuildinguri
CIPD HR Profesional Map
Inspiratie si motivatie pentru tema resurselor umane
Resurse la comun
Formulare de evaluare
Analiza de nevoi
Ebooks
Liste de bloguri
Liste de articole pe subiecte
Mica biblioteca de carti esentiale
Sentiment de apartenenta
Colaborare intre organizatii - pe HR
Networking cu profesionisti din HR, Business si Academic
Branding personal pentru fiecare dintre membrii comunitatii
Invatare sociala
Sharing Attitude
Spatiu de experimentare
Solutii
Inovatii
Cresterea capacitatilor de HR a organizatiilor studentesti participante
Argumente, Resurse, Inspiratie
Concepte
Connectivism, Video: Networked Student
Social Learning, 5 Great Social Learning Resources: My definition of 'social learning' as I understand it is learning that takes place through the use of a collection of web-based tools like wikis, blogs, and social networks which build community and conversation around a topic encouraging a collaborative knowledge sharing environment., Mediu social de invatare (Social Learning Environment), Learning profesionals should, Help individual learners acquire the skills they need to manage their own personal learning, Help groups how toadress thei own team performance and learning problems, Build formal learning solutions that focus on providing a social, colaborative, participative learning experience, Social Learning Handbook - Jane Hart
Practice based learning, An evaluation tool for practice-based learning (PBL), Praxis, PBL and the application of knowledge, http://www.euronet-pbl.net/
Comunitati de practici, Video: Building Collaborative, Community Oriented Learning Environments, http://vimeo.com/brocansky/videos, Video: 1 min - community, Slideshare presentation, CoP - Wikipedia, Cultivating Communities of Practice: A Guide to Managing Knowledge - Seven Principles for Cultivating Communities of Practice, Communities of Practice: Learning as a Social System, Book: Cultivating Communities of Practice, Intro, Bibliografie, The Community of Practice on Communities of Practice, Video: Introduction to Communities of practice (ALSTOM)
Open educational resources, Creative Commons
Learning 2.0, How web2.0 technologies are shaping education
Idei
21 century learning
Simple tools, complexity is created by the network
The learning economy emphasizes the importance of network relationships, of practical problem solving capacities and the acquisition of individual learning strategies that exist over various phases of life and work and that contribute to the development of competences.
Pasion Based Learning
Oameni
Teoreticieni, Dewey, Freire, Lave and Wenger, Kolb, Bandura, Vygotsky
Carti, modele, teorii
The Element
Social cognitive theory - Bandura
A Typology of Learning Trajectories; A Typology of Early Career Learning
The six key processes in higher skills development at work are, Engagement with challenging work;, Interactions at work;, Supporting learning of others;, Knowledge at work;, Self-directed learning at work;, At work, being self-directed in terms of taking advantage of learning opportunities is helpful for individual development (Bimrose and Brown, 2009). It can involve willingness to engage in a wide range of activities such as asking questions; getting information; locating key resource people; listening and observing; learning from mistakes; giving and receiving feedback; trying things out; independent study; and working for a qualification (RB 25)., and Identities at work.
Instructional design models
Digital Youth Report
Future Lab
http://www.futureofed.org/
Pedagogy of Abundance
Teme, subiecte (incomplet)
Psihologie
Nevoile oamenilor
Cum invata oamenii
Dezvoltare personala
Cultura organizationala
Management
Leadership
Collaborative writting
Public speaking
Motivarea oamenilor
Caracter, etica
Comunicare interpersonala
HR stuff