Tipos de impuestos
by claudia del carmen Romero Escobar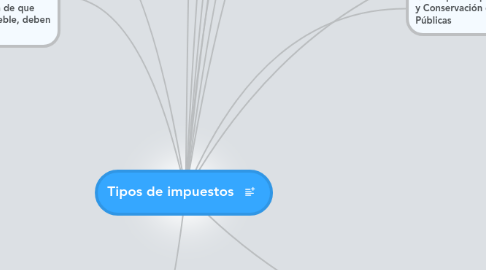 1. Find out more?
1.1. • Impuesto de Plusvalía
1.2. Impuesto Sobre la Renta (ISR) Impuesto Sobre la Renta (ISR)
1.3. • Impuesto al Valor Agregado (IVA)
2. • Impuesto por Alumbrado Público
3. • El IVA es un impuesto indirecto; se llama así porque a diferencia de los impuestos directos, no repercute directamente sobre los ingresos, por el contrario, recae sobre los costos de producción y venta de las empresas y se devenga de los precios que los consumidores pagan por dichos productos
4. • Se dice que es un impuesto indirecto que el fisco no lo recibe directamente del tributario.
5. • Impuesto para el Mantenimiento y Conservación de las Vías Públicas
5.1. INS to insert (Windows)
5.2. TAB to insert (Mac OS)
5.3. ENTER to add siblings
5.4. DEL to delete
5.5. Press F1 to see all key shortcuts
6. • Impuesto sobre Asistencia a Juegos Permitidos y Espectáculos Públicos
7. • Impuesto para el Fomento Deportivo y Educacional
8. • Impuesto sobre Adquisición de Inmuebles y Transmisión de Dominio
9. • Promoción de la Cultura
10. El impuesto predial es un tributo que grava una propiedad o posesión inmobiliaria. Esta contribución la realizan los ciudadanos que son dueños de un inmueble, tanto para vivienda, oficina, edificio o local comercial. Existente en varios países del mundo, se encuentra sustentado en la idea de que todos aquellos que son propietarios de un bien inmueble, deben aportar una cuota
11. Ideas for my novel ...
12. • Impuesto para el Fomento Turístico, Desarrollo Integral de la Familia y
13. Get started!
14. • Impuesto Predial