Operating System
by Jose Morataya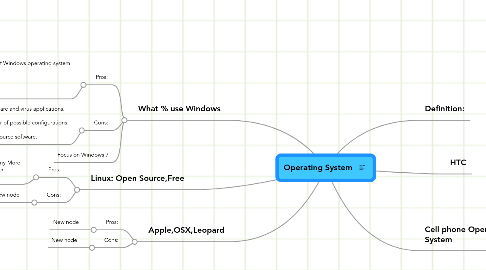 1. Definition:
2. What % use Windows
2.1. Pros:
2.1.1. -More then 80% of the desktop computers in the world run some sort of Windows operating system. -You won't have any trouble finding hardware and drivers. -You won't have any problems finding support. -Most widely supported operating system for games. -Large shareware and freeware application library.
2.2. Cons:
2.2.1. -The most prone operating system for spyware and virus applications. -You are going to need support. -General instability due to the shear number of possible configurations. -Poor security. -Limited access to the library of free open source software.
2.3. Focus on Windows 7
3. Apple,OSX,Leopard
3.1. Pros:
3.1.1. New node
3.2. Cons:
3.2.1. New node
4. Cell phone Operating System
4.1. Which one do you have?
4.2. Which are the major Smartphone operating system?
5. Linux: Open Source,Free
5.1. Pros:
5.1.1. -Runs on just about any More options than any other system.
5.2. Cons:
5.2.1. New node
6. HTC