Operating Systems
by
Gerson Ponce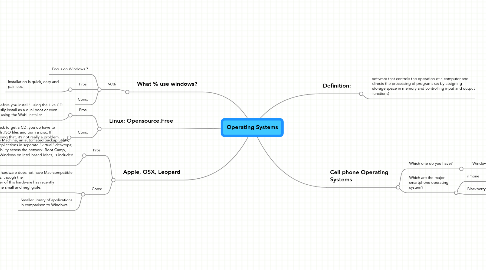 0.0
stars - reviews range from
0
to
5
Operating Systems
Definition:
software that controls the operation of a computer and directs the processing of programs (as by assigning storage space in memory and controlling input and output functions)
What % use windows?
90%
Focus on Windows 7
Pros:, Installation is quick, easy and painless.
Cons:
Cell phone Operating Systems
Which one do you have?
Windows XP
Which are the major smartphone operating system?
iPhone, Apple for iPhone
Blackberry, Blackberry Os
Apple, OSX, Leopard
Pros:
new features, including Time Machine, an automated backup utility; Spaces, a way to organize applications in separate "virtual" desktops; and Spotlight, a search capability across the network. Boot Camp, which allows users to install Windows on Intel-based Macs, is included rather than being an option.
Cons:
Some hardware does not have Mac-compatible drivers, though the number of this hardware has recently become small and negligible.
Smaller library of applications in comparison to Windows.
Linux: Opensource,Free
Pros:
Option to "try before you install" using the Live CD feature - Can easily install as a dual boot or even inside Windows using the Wubi installer
Cons:
Unless you're luck to get a CD, you do have to mess about with .ISO files and burn a disc. If you're happy doing that, it's not really a problem.