Solomon Chapter 12: Advertising, PR, Sales and Sales Promotion
by
Paul Venhaus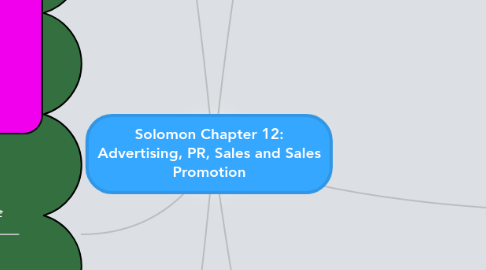 5.0
stars -
1
reviews range from
0
to
5
1: Identify the Target Audiences
2: Establish Message and Budget Objectives
3: Design the Ads
4: Pre-test what the Ads will say
5: Choose the Media Type and Media Schedule
6: Evaluate the Advertising
Nonpersonal communication paid for by and identified sponsor using mass media to persuade or inform an audience
Types
Advertising Campaign
A coordinated, comprehensive plan that carries out promotion objectives and results in a series of advertisements placed in media over a period of time
programmes marketers design to build interest in or encourage the purchase Handing out free chocolate bars good if the firm has an Immediate objective
Trade Promotions
focuses on distribution channel members like retail salespeople
Consumer Promotions
The communications function that seeks to build good relationships with an organization's publics. "Do something good, and then talk about it."
Terms
Objectives
Planning
Activities
Personal Selling
Company representative interacts directly with a customer
p. 463
Telemarketing
personal communication vial telephone
Technology
Types of Sales Jobs
Approaches
Creative Selling Process
Personal Selling is more successful if the salesperson undergoes a systematic series of steps
Sales Management
Management of the personal selling function
"Any direct communication to a customer or business recipient that is designed to generate a response in the form of an order, a request for further information and/or a visit to a shop or other place of business for purchase of a product"
Mail Order
Telemarketing
direct marketing via telephone
Direct-Response Advertising
M-Commerce
M = Mobile