Solomon Chapter 12: Advertising, PR, Sales and Sales Promotion
by
Paul Venhaus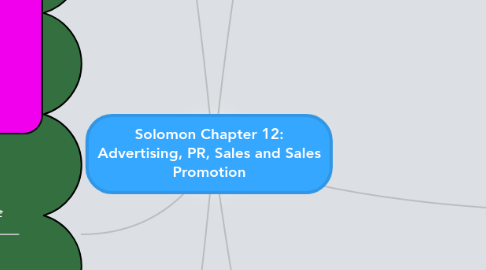 5.0
stars -
1
reviews range from
0
to
5
1: Identify the Target Audiences
2: Establish Message and Budget Objectives
Setting Message Objectives, Inform, Persuade, Remind
Setting Budget Objectives
3: Design the Ads
Creative Strategy, Advertising Appeal, Reasons why: USP, Comparative Advertising, Demonstration, Testimonial, Celebrity Endorsement, Slice of Life, Lifestyle, Fear appeals, Sex Appeals, Humorous Appeals, Slogans and Jingles
4: Pre-test what the Ads will say
Pre-testing, Copy Testing
5: Choose the Media Type and Media Schedule
Media Planning, Aperture
Media Type, Internet Advertising, Permission Marketing, Traditional Media, TV, Radio, Newspapers, Magazines, Directories, Out-of-home media, Place-based media
Media Scheduling, Advertising Exposure, Impressions, Cost per Thousand, Reach, Frequency, Gross Rating Points, Schedules, Continous Schedule, Advertising wear-out, Pulsing Schedule, Flighting
6: Evaluate the Advertising
Post-testing, Unaided Recall, Recall Test, Aided Recall, Recognition Test, Attitudinal Measures
Nonpersonal communication paid for by and identified sponsor using mass media to persuade or inform an audience
Types
Product Advertising
Retail and Local Advertising
Institutional Advertising, Advocacy Advertising, Public Service Announcements (PSA)
Do-it-Yourself Advertising
Advertising Campaign
A coordinated, comprehensive plan that carries out promotion objectives and results in a series of advertisements placed in media over a period of time
Advertising Agency, Limited-Service Agency, Full-Service Agency
Specialists needed, Account Management, Creative Services, Research and Marketing Services, Media Planning
programmes marketers design to build interest in or encourage the purchase Handing out free chocolate bars good if the firm has an Immediate objective
Trade Promotions
focuses on distribution channel members like retail salespeople
Discounts and Deals, Merchandising Allowance, Case Allowance, Downsides, Forward Buying, Diverting
Increasing Industry Visibility, Trade Shows, Promotional Products, Incentive Programmes, Push Money
Consumer Promotions
Price-Based Consumer Sales Promotion, Coupons, Price deals, refunds and rebates, Frequency (loyalty) programs, Special/bonus Packs
Attention-Getting Consumer Promotions, Contests and Sweepstakes, Premiums, Sampling, Point-of-Sale Promotion, Product/brand placements, Cross-Promotion
The communications function that seeks to build good relationships with an organization's publics. "Do something good, and then talk about it."
Terms
Publicity
Publics
Objectives
Introducing new Products to Manufacturers
Introducing new Products to Consumers
Influencing Government legislation
Enhancing the Image of an Organisation
Enhancing the Image of a City, Region or Country
Crisis Management
Calling Attention to a Firm's Involvement with the Community
Planning
1: Develop clear objectives for the PR program
2: Develop a campaign strategy, Statement of Objectives, Situation Analysis, Specification of target audiences and messages, Timetable and budget, Discussion of how the program will be evaluated
Activities
Press releases
Internal PR
Investor Relations, Annual reports
Lobbying
Speech Writing
Corporate Identity
Media Relations
Sponsorships
Special Events
Buzz Building
Advice and Consultancy
Personal Selling
Company representative interacts directly with a customer
p. 463
Telemarketing
personal communication vial telephone
Technology
CRM software
Partner Relationship Management (PRM)
Types of Sales Jobs
Order Taker
Technical Specialist
Missionary Salesperson
New-Business salesperson, Order Getter
Team Selling
Approaches
Transactional Selling: Putting on the hard Sell
Relationship Selling: Building Long-Term Customers
Creative Selling Process
Personal Selling is more successful if the salesperson undergoes a systematic series of steps
1: Prospecting and Qualifying, Prospecting, Social Networks, Cold Calling, Referrals, Qualify
2: Pre-Approach
3: Approach
4: Sales Presentation
5: Handling Objection, Objections
6: Close the Sales
7: Follow-Up
Sales Management
Management of the personal selling function
1: Setting Sales Force Objectives
2: Creating a Sales Force Strategy, Sales Territory, Geographic sales force structure, Industry Specialisation
3: Recruiting, Training and Rewarding the Sales Force
4: Evaluating the Sales Force
"Any direct communication to a customer or business recipient that is designed to generate a response in the form of an order, a request for further information and/or a visit to a shop or other place of business for purchase of a product"
Mail Order
Catalogues
Direct Mail
Telemarketing
direct marketing via telephone
Direct-Response Advertising
Direct-Response TV
M-Commerce
M = Mobile
SMS marketing