Rachel Sloss' Vocab Word Mind Map
by
Rachel Sloss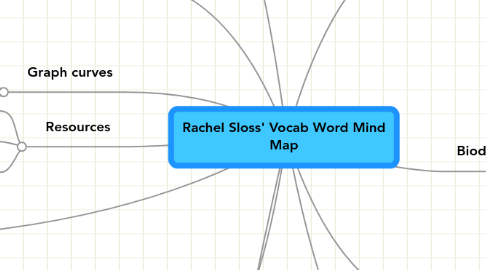 0.0
stars - reviews range from
0
to
5
Rachel Sloss' Vocab Word Mind Map
Biomes
A biome is a specific place in an ecosystem.
Rainforests
Desert
Tundra
Temperate Deciduous Forest
Coniferous Forest
Freshwater
Marine
Grassland/Savannah
Ecosystem
Close to the biomes.  But it is a group of biotic and abiotic factors interacting with one another in the same habitat.
Wetlands
River
Ocean
Woods
Desert
Coral Reef
Inside an Ecosystem
Organism
An animal or a plant.
Population
Groups of the same organism.
Community
Groups of different living organisms living together.
Biome
Trophic levels
Web
A map of organisms that shows what eats what in a spread out kind of way.
Chain
Straight line of what organism eats what with only one organism eating only one other organism.
Different factors
Biotic
An organism that is/was/was a part of something living.
Abiotic
An organism that never has/will/is/was a part of something living.
Limiting
Conditions in an environment that limit the growth of a species.
Carrying capacity
Limit to growth of population. Number of individuals of a species that an ecosystem can support.
Biodiversity
The variety of organisms in a geographic area.
Genetic
Same specie biodiversity.
Species
Biodiversity within a species.
Ecosystem
Biodiversity through ecosystems.
Hot Spots
Places with high biodiversity mostly found near the equator.
Species
Indicator
Something sensitive in an ecosystem.  Indicates ecosystem's health.
Endangered
A species in danger of extinction throughout most or all of the area it inhabits.
Threatened
A species likely to become endangered in the near future.
Pioneer
In a new ecosystem, it is one of the first organisms to come.
Climax Communities
In a new ecosystem, one of the last organisms to come.
Succession
Ecological
A process in which the communities of an ecosystem change over time.
Primary
An ecosystem starts from nothing.
Secondary
An ecosystem is destroyed and is rebuilt.
Graph curves
J-Curve
Exponential growth
S-Curve
Pollution
Run-off
Things other than rain water goes into storm drains.
Water pollution
Watershed
Vast collection where all water drains to one common water body.
Urbanization
Urbans on wetlands.
Erotion
Water pulling at land.
Organic Pollutant
Inorganic Pollutant
Resources
Natural
Renewable
Nonrenewable