Eddie's Enviormental Science Mind Map
by
eddie currier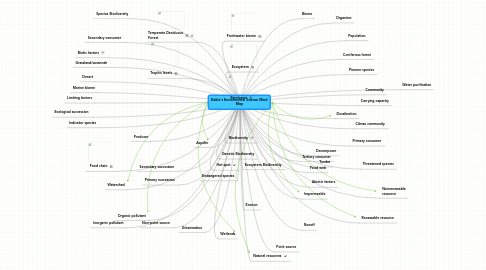 0.0
stars - reviews range from
0
to
5
Eddie's Enviormental Science Mind Map
Community
Population
Biome
Ecosystem
Rainforest
Organism
Desert
Temperate Deciduous Forest
Pensylvania is mostly made of a temperate deciduous forest.
Tundra
Coniferous forest
Marine biome
Freshwater biome
Grassland/savannah
Food chain
Food web
Producer
Primary consumer
Secondary consumer
Tertiary consumer
Decomposer
Trophic levels
Biotic factors
Living factors or once living in an ecosystem.
Abiotic factors
Species Biodiversity
Biodiversity
The variety of organisms in a geographic area.
Genetic Biodiversity
Ecosystem Biodiversity
Hot spot
When more than half of the worlds species are found in 17 regions. Some ecosystems have more species than others.
Endangered species
Threatened species
Indicator species
Ecological succession
Primary succession
Secondary succession
Pioneer species
Climax community
Limiting factors
Carrying capacity
Aquifer
Desalination
Water purification
Watershed
Impermeable
Erosion
Runoff
Wetlands
Urbanization
Point source
Non-point source
Organic pollutant
Inorganic pollutant
Natural resources
Resources that come from the earth
Renewable resource
Nonrenewable resource