Kush - Enviormental Science Vocab.
by
Kush Patel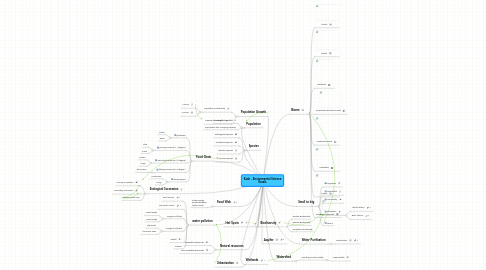 0.0
stars - reviews range from
0
to
5
Kush - Enviormental Science Vocab.
biome - a geographic area that contains many ecosystems. Determined by climate.
Tundra
Desert
Rainforest
Temperate Deciduous Forest
Coniferous Forest
Freshwater
Marine
Grasslands/Savannah
producers
primary consumer ( 1 degree )
secondary consumer ( 2 degree)
tertiary consumers ( 3 degree )
decomposers
Shows energy transfer between trophic levels
Small to big
Orgainism
a living thing
Popullation
group of orgainisms
Community
different types of orgainisms that live together
Ecosystem
habitat where groups of orgainisms work together to live
Biome
Biodiversity
The variation in species in an ecosystem
Genetic Biodiversity
Species Biodiversity
Ecosystem Biodiversity
Specific areas (17 areas) near the equator that are the most biodiverse areas in the world
Species
A species that is almost extinct in all its habitats
Threatened Species
A species that is threatened to die out in only one of its habitats
Indicator Species
A species that will tell if a habitat/ecosystem is healthy or not
Pioneer Species
short lifed species that set up the basis of an ecosystem
Ecological Succession
An ecosystem changes over time
Primary Succession
an ecosystem starts from nothing - a new volcanic island
Secondary Succession
an ecosystem starts where there was life before - burned down rainforest
Climax Community
Population
Limiting factors affect -->
Popualation has a carrying capacity
Population Growth
Population Growth Rate
the rate at which a populations grow. Briths - deaths
water pollution
Organic Pollutant
Inorganic Pollutant
Runoff
Waste, cans, debris, fertilizers, etc. that is washed away into stormdrains.
Erosion
Natural resources
Renewable Resources
any material/energy source that can be replaced/cycled during 1 human lifespan.
Non-renewable Resources
any material/energy source that cannot be replaced.  
An area underground where water is, or there is a layer of water.
Water Purification
The removal of salt from water
Watershed
How they can be created
Urbanization
Urbanization has greatly impacted the enviorment. It vreates many impermeable sources and usually has a high pollution rate.