Gordon - Environmental Science Vocabulary
by
Gordon Ridgeway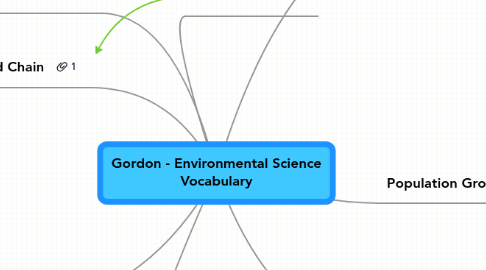 0.0
stars - reviews range from
0
to
5
Gordon - Environmental Science Vocabulary
Biome
A geographic are that contains many ecosystems. Biomes can be determined by climate and elevation.
Marine
Rainforest
This ecosystem usually has the greatest biodiversity.
Coniferous Forest
Temperate Deciduous Forest
Desert
Tundra
This ecosystem usually has the least biodiversity
Freshwater
Grassland/Savannah
Ecosystem
A habitat where different organisms survive and interact
Community, Population, Organism
Water pollution, Point Source Pollution, Non-Point Souce Pollution, Organic Pollutant, Inorganic Pollutant
Watershed
Water Purification, Desalination, Wetlands
Impermeable, Runoff
Food Chain
Producers
These organisms get their energy from the sun through photosynthesis.
Primary Consumers
Secondary Consumers
Tertiary Consumers
Decomposers
Trophic Levels
Producers, the various stages of consumers, and decomposers are all Trophic Levels. From one trophic level to the next, only 10% of the energy is passed.
Food Web
Biotic Factors
Biotic: A living or dead organism, or a piece of that living or dead organism.
Abiotic Factors
Abiotic: something that never was, is not, and never will be alive. It could also be the decomposed remains of a dead organism.
Rocks
Soil
Water
Aquifer
Air
Erosion
When water continuously runs over a surface, it erodes. A layer of shrubs and other plants decreases erosion.
Biodiversity
Ecosystem Biodiversity
Hot spots
Indicator Species
Species Biodiversity
Endangered Species
Threatened Species
Genetic Biodiversity
Ecological Succession
Primary Succession
What starts out as a completely barren piece of land, void of life, can flourish into a climax community through primary succession
Pioneer species
Secondary Succession
If an ecosystem gets wiped out from some type of natural disaster, it can rebuild itself through secondary succession.
Climax Community
This is the final development stage of an ecosystem.
Limiting Factors
Carrying Capacity
Population Growth
Population Growth Rate
Exponential Growth
J-curve
S-curve
Urbanization
This is when people build houses, factories, parks, and other structures on what was natural land.
Natural Resources
Things from nature that we can use in our lives.
Renewable Resources
Nonrenewable Resources