This Is Branding
by
danielle k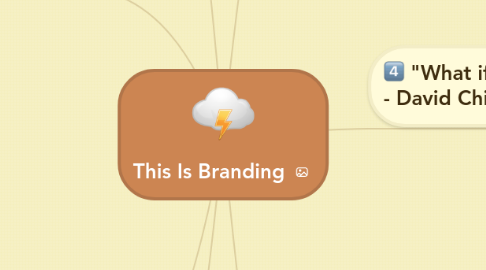 5.0
stars -
63
reviews range from
0
to
5
This Is Branding
@whythisbox
It's all about People
PIPE, Passion, Integrity, Professionalism, Empathy
Setting Goals, Professional, Personal, "Can You Imagine?" Wall
Celebrating Wins, The 7-minute team huddle, share good news, in the news, missing systems & opportunities, opportunities to thank, cheer
Sharing Stories, 101 Life Goals, Painted Picture
Good Imagery / Visuals
great impact on personal & business brands
quality
credibility
Photos
good 1st impression
make messages more interesting
tell your story
explain point of view
Benefits of engaging a Professional Photographer
Headshot
your Brand is about YOU
gives / takes credibility to / from your brand
inspires trust & comfort
attracts new clients
create a relationship with your audience without you having to ever meet them
provides a glimpse of your personality
"Your photo is not for YOU - it is for your audience" (to like / connect with)
A Brand is...
a promise
a gut feeling
a story
perception in the customer's mind
born of experience
reflect reputation
the differentiator, competitive advantage, unique value proposition, no substitute
Personal Brand
allows individuals to differentiate themselves
built upon skills, values, passions, and personality
Branding
builds trust & consistency
creates a stand-out message
create focus & clarity, Who are you?, What do you do?, Why does it matter?
The NAME, Strong vs. Weak, "SMILE", Suggestive, Meaningful, Imagery, Legs, Emotion
Taglines, focused
Brand Identity, Logo, good impression, easy to remember, work in single color & at small size
Process, 16 steps
Differentiators
what makes you unique from competitors?
uniqueness provides value for client?
Branding Tips
know your audience
ensure your relevance
show up where audience spends their time
be consistent
take time to build each channel
provide value & proof
"Give A Damn" (G.A.D.) factor
does your uniqueness matter to customer?
Your Secret Sauce
Unique to Market: HIGH
Client benefit x Desire: HIGH
"What if Virgin Hired Kevin O'Leary?" - David Childs (Living Blueprint)
SUCCESS
Company, Company Brand, Culture, Values, Beliefs, Mission
Individuals, Personal Brand, Values, Beliefs, Goals, History
Brand Impression, Conscious, Unconscious
Market, History, Beliefs, Values, Culture, Needs / Wants
Alignment