Enviromental Science
by
Shelly Cowan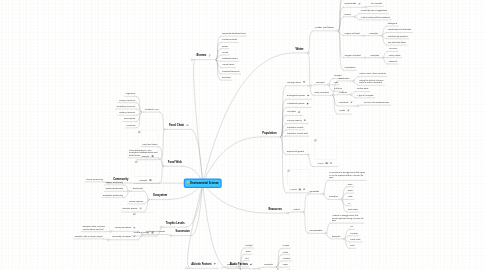 0.0
stars - reviews range from
0
to
5
Enviromental Science
Biomes
Geographic area with many ecosystems based on climate and elevation.
Temperate decidous forest
Coniferous forest
Desert
Tundra
Freshwater biome
Marine biome
Grassland/savannah
Rainforest
Food Chain
A visual image of the energy transfer between organisms.
Included in one
Example
Food Web
Many food chains
Show relationships in one ecostystem between abiotic and biotic factors
Example
Biotic Factors
A living thing, part of a living thing, or was living at some point.
Examples
Abiotic Factors
Nonliving things, never lived, never will
Examples
Trophic Levels
Transfer of energy
Population
Limiting Factors
Conditions that limit the growth of a species in an enviroment, biotic and abiotic factors that prevent continuous growth.
Endangered Species
A species in danger of extinction throughout most or all areas of inhabits.
Threatened Species
A species likely to become endangered in the near future.
Hot Spots
17 regioins on Earth where species are found biodiverse.
Carrying capicity
Maximum number of individuals of species that an ecosystem can support.
Population Growth
Population Growth Rate
Exponential growth
S-curve
It gradually slows down and levels off.
Ecosystem
Biodiversity
Pioneer Species
Indicator Species
A species that tells how healthy the ecosystem is. They may be plants or animals.
Succession
Ecological succession
Community
Climax Community
Water
Water Pollution
Water purfication
Resources
Natural