Rebuttal of irum's testimony as per us court
by Junaid Qazi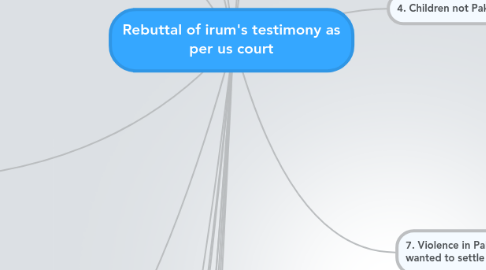 1. defendants actions to stop the petitoner from returning to US
1.1. June 2012, petitioner shifted to her home - No court case pending.
1.2. 20 July 2012, files for divorce in Pakistan.(Judicial Notice) Ex 3 - 10
1.3. Petioner flew out to Japan-- Check my 2nd declaration
1.4. Divorce Certificate issued 30 oct, 2012 (Judicial Notice Ex 9)
1.5. From June 2013 till Feb 16. There was no order to stop either petitioner or children to move to CA.
1.6. From Feb 16, 2013, till date petitioner was still free to goto CA.
1.6.1. For a week, she was on ECL but we requested in our petition that she be removed so she can travel.
1.7. She never complained about the passports in any of her emails or court proceedings from June 26 till Late 2013.
1.8. She has changed her stance
1.8.1. 1) Never complained about being constrained in Pakistan in any of her emails-- onus on Petitioner.
1.8.2. 2) Never complained about being constained and did not show intention of returning to US in Court pleadings of April 4, 2013.
1.9. She says I have threatened her
1.9.1. My kids live 200 yards from my home. Maybe a 10 mins walk.
1.9.2. My kids study 200 yards from my home and yet I have not seen them for a year and a half. Maybe a 10 mins walk.
1.9.3. If I was this dangerous irrational person, I would not be waiting a year and a half for court orders just to be able to see all my daughters. (My second declaration. Court order sheet Ex 26.) No order on meeting of minors till Nov 16. 2013. Order was made and the petitioner Appealed the meeting on the morning of the scheduled meeting. Frustrating the judicial process.
1.9.4. In my second declaration, look at exhibit 24. Four brother all 5'9 inch and above. Her father owns a big business in Pakistan. (See declaration of Owais and Zia where they say that their father talked about his business). So how can I threaten her? She could threaten me instead.
1.9.5. If she was so afraid, why is she here now. Also why did she not report it to the US Embassy and take asylum in the embassy along with the children.
2. Latest declaration
2.1. Domicile
2.1.1. Minor Children
2.1.1.1. Order of June 6, 2013. Court order says children are Pakistanis by Decent. (Judicial Notice ex 16. )
2.1.1.2. The order to date has not been challenged has not been challenged in Appeal and now attained finality/bar of limitation
2.1.1.3. Nadra registration for children. (Judicial Notice Ex 23)
2.1.2. Petitioner
2.1.2.1. Order of June 6, 2013. Court order says parents are Pakistanis by Origin. (Judicial Notice ex 16. )
2.1.2.2. Nadra registration for children. (Judicial Notice Exibit 23) talks about Parents.
2.2. Income and assetts
2.2.1. Income
2.2.1.1. I am working as a Pakistani in Pakistan.
2.2.1.1.1. I don't have a work permit in Pakistan. So I am here as a local.
2.2.1.2. In last two years I came to US twice.
2.2.1.2.1. Once to fight land lord in October 2012. -- CA case number 37-2011-00048669-CL-BC-CTL
2.2.1.2.2. Once to fight landlord again in Feb 22 2013. Trial De novo.
2.2.2. Ownership
2.2.2.1. I have not received any income from company profits. No K1 issued from CBM. Only a ~ $1300 K1 issued from Clary Solar for first half of 2012 before I sold all shares in Clary Solar.
2.2.2.2. As per my recollection, I do not own any stocks in Clary Solar or Clary Business Machines.'
2.3. Continous ties with California
2.3.1. She has been living in Pakistan. She did not leave when she could.
2.3.2. She is a resident of Pakistan as per Court order of June 6, 2013. Judicial Notice Ex 16
2.3.3. She was working in Pakistan. Her own pleading of April 4, 2013. Judicial order Ex 12 Article 15. She did not attach her work permit so she was working as a Pakistani. The court asked her attorney to produce work permit and she did not.
2.3.4. As per the picture Her Brothers all 4 live in Pakistan. Her parents live in Pakistan. She has all her uncles and aunts live in Pakistan. She is the only one that ever lived in USA. (Ref My 2nd declaration ex 24)
3. 4. Children not Pakistani Citizens
3.1. The court tells her that kids are Pakistani citizens by Decent June 6, 2012 order. Judicial Notice Ex 16. If the court tells her they are Pakistani citizens, then why is she misleading the court.
3.2. We have submitted NADRA registration, which confirms them to be Pakistani Citizens.
3.3. This issue was argued at length by her attorney before the order of June 6, 2013. Why is she misleading the court?
4. 7. Violence in Pakistan and wanted to settle in USA
4.1. Her brother Sohail completed his MBA and then moved back to Pakistan without even availing his one year Optional Practical Training.
4.2. Her Mother and her family always wanted us to move back to Pakistan because life is easier there. Declaration of Zia and Owais.
4.3. We did not purchase any property in USA because we always intended to return to Pakistan.
4.4. We got our Green card because there is time bar on H1 Visa and it does not get renewed.
4.5. We applied for Citizenship as an after thought, about a year after we were both ripe for application.
5. 8. Volatile personality.
5.1. Answered in my second declaration pt 18.
6. 9- 14. Stories about why she stayed in SF Bay while I in SD
6.1. All inconsistent stories.
6.2. Fact is As per her own declaration she
6.3. 1) Went to Pakistan in March after subleasing the house to Ali Baig.
6.4. 2) Tells me in June 2008 she got admission in SJSU
6.5. 3) Comes to USA in July 2008.
6.6. 4) Classes start in August 2008.
6.7. 5. Stays in SF Bay area with kids. Father in SD. Father runs two house hold. Father away from kids. Visits every weekend.
6.8. 6. Course work completes in Dec 2009.
6.9. 7. Irum moves to SD in Dec 2009.
6.10. However she still asserts that she was living away from Family because father is unstable and no mention that the family was torn apart due to her education.
6.11. Respondent got 41 K transferred from his father in Pakistan during two years. Along with other accounts and unemployment.
7. 18. Mistreated the daughters
7.1. Biggest mistreatment is keeping them away from their father for one and a half year.
7.2. Petetioner afraid that children who are abused by mother will tilt towards father.
7.3. Video evidence of mistreatment.
8. 24. Sell car (unstable)
8.1. The car was sold at the end of its 3 year lease.
8.2. She knew about the lease of the car.
8.3. The car was sold before I travelled to Pakistan in August 2011. She just had to hand over the keys to the buyer.
9. 25. She was forced to move - Cites threat of violence in Nov 2011.
9.1. on Nov 9 email, I ask Irum, Sohail and Mubashir if they can help us move and pack.
9.1.1. Personal email <[email protected]> Wed, Nov 9, 2011 at 4:22 PM To: Irum Abbasi <[email protected]> Cc: Naeem Qazi <[email protected]>, Sohail Abbasi <[email protected]>, Mubashir Abbasi <[email protected]> Assalam o Alaikum It is important to travel before Dec 20th. This is international travel. Most companies operate with skeleton staff and on top of that, you have the chrismas holidays. Firstly the chances of a mishap are very high and if there is a mishap, then they make you wait till the end of newyear when the regular staff shows up in office. ................. blah blah blah .................... If Mubashir or Sohail can help us move, I will cover them and it will also provide you with moral support. I will discuss furniture moving/disposal details with you in a personal email. blah blah blah. Best Regards -Junaid
9.2. I offer to pay for their tickets and expenses in the same email.
9.3. If she feared such violence, why did she not engage them in the move? and why did she not ask them to come.
9.4. She has come up with these allegations recently.
10. 27-31 Petitioner is trying to justify her self
10.1. Petitioner loves to write emails in an effort to generate proof.
10.2. Usually her emails have no end and she will respond till the very end.
10.3. She has been using this technique in all of her other legal cases and to harass other people
10.4. All the proof she provides is emails she has written her self.
10.5. She does not have any email from my self of threatening her or of anyone else who has witnessed me mistreating her.
11. She filed for divorce because no provision for separation
11.1. This is the first time I have heard about this in Pakistan.
11.2. She came into this marriage under this legal frame work and stayed with me for 11 years under this legal provision and frame work.
11.3. I offered her to stay in separation
11.4. I did not make any demand to physically live with her during our 3 weeks separation.
11.5. She mentions in her own email that we were separated in March 2011 while living under the same roof. So why is there a contradiction that I will force her to live with me when she is not even under the same roof.
11.6. Again for 1.5 years she has not allowed me to see the kids. So how can she claim that I could have forced her to live with me. She belongs to a very strong and influential family with four brothers. This is all an effort to mislead the court. Despite the order of the court, she has not let me see the kids.
11.7. Please refer to the Chairman Arbitration Council, Noman second declaration Exibit 2.
12. 37. September 2012 I travel to US. + March travel
12.1. I had a lardlord case pending and had a summon from a CA court. I arrived a week before the court hearing and left a couple few days after the second case hearing.
12.2. I traveled to CA on FEb 20 for a court hearing on Feb 22. Trial de novo of the same landlord case.
12.3. I never asked the court to restrict the movement of Petitioner.
12.4. She is lying in Article 37. Please refer to Order sheet. March 2 no such order was passed to stop her from traveling outside of Pakistan as per certified copies of the order sheet. Can we say she is lying? Exibit 12 and 13 of First Declaration of Noman Farooqui.
13. 38. This is clearly a lie.
13.1. Deliberate lie. Please check the order of June 6, 2013 where the jurisdiction has been established by the court. Order dated June 6. Judicial Notice Ex 16.
13.2. To date, no appeal has been filed against that order.
14. 23. Travel to Pakistan for May 2011
14.1. She gets a coupon from Emirates
14.2. Wants to purchase ticket but I tell her that I am waiting for a payment.
14.3. Purchases ticket anyways because she was buying off a CC that was neither activated or she did not put in the correct pin.
14.4. She her self tells me she is going to cancel ticket through airline or CC company.
14.5. When she is unable to do so, she tells me of the steep cancellation fee. I allow her to travel. She travels but then in her emails she is calling me unstable.
15. She will say that I went to mediation services, therefore planned to divorce her by Feb 2011.
15.1. Feb 2011 meant that our marriage was less than 10 years. So if I wanted to divorce her, this was the best time for me to do so.
15.2. Later she went to Pakistan in May 2011. I could have come to Pakistan and divorce her as our marriage anniversary was June 20, 2011. So timing would be perfect. Wife in Pakistan, and marriage less than 10 years.
15.3. Junaid never divorced you, rather as per the proceedings of Union council, I am requesting her to reconcile even till the last few days.
15.4. Feb 2011 meant that our marriage was less than 10 years. So if I wanted to divorce her, this was the best time for me to do so.
16. 19-20. Khadijah born and sent to Pakistan
16.1. 1) Her mother travelled along with her brother and his pregnant wife.
16.2. 2) Her brother delivered a baby in USA. (Birth Tourism)
16.3. 3) Her brothers family lived with us in SD.
16.4. 4) We never engaged a buyers real estate agent. We never applied for pre qualification of loan.
16.5. 5) Mother was too preoccupied in her thesis and ignored children. We decided together that the infant should goto Pakistan so Petitioner can finally complete her life long education.
16.6. What are the extra expenses of a baby. Diapers? Milk? It does not make sense! to send your kids to Pakistan just to save milk money and diapers. However education and travel for thesis makes sense.
17. 22. She had a severe Anaxiety attack (medical condition)
17.1. Was the plaintiff ever on anti seizure medication?
17.2. When did she start taking such medication (1999 after her brain operation)
17.3. Did she have a brain surgery (She had two one in PIMS 1998 in islamabad after she suffered a stroke, second one in Cromwell hospital 1999 )
17.4. At time of marriage was she taking any medication? (Yes she was taking Daprocort 600 mg Class D medication causing my daughter to be speech delayed)
17.5. Did you disclose this to your husband at time of or before marriage?
17.6. Was she ever evaluated by a psycologist for behaviour?
17.7. Lets try to see if she is bipolar?