Literary Devices Used in Satire
by
Sumin Lee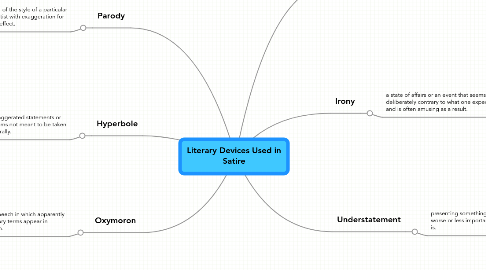 0.0
stars - reviews range from
0
to
5
Literary Devices Used in Satire
Allusion
figure of speech using representation to represent place, person, event, etc.
Parody
imitation of the style of a particular writer, artist with exaggeration for comical effect.
Understatement
presenting something as being smaller, worse or less important than it actually is.
Oxymoron
figure of speech in which apparently contradictory terms appear in conjunction.
Irony
a state of affairs or an event that seems deliberately contrary to what one expects and is often amusing as a result.
Hyperbole
exaggerated statements or claims not meant to be taken literally.