Map of Standards
by Jeannette Shaffer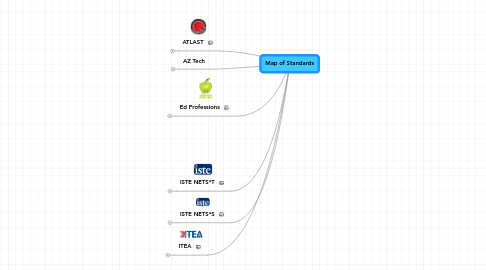 1. ATLAST
1.1. Goal 1: Provide Arizona participants with knowledge and understanding of regional high-tech industry, impact on Arizona residents, and future career opportunities for students.
1.1.1. ATLAST 1.1: identify key technologies associated with rapid-growth industry in Arizona.
1.1.2. ATLAST 1.2: understand the implications and impact of Arizona high-tech industry on regional economy, natural environment, and population.
1.1.3. ATLAST 1.3: identify and explain the basic concepts of research, manufacturing, applications, and markets of key technologies that drive regional industry.
1.1.4. ATLAST 1.4: outline the different academic and career pathways for students who wish to become science teachers, technologists, scientists, or engineers.
1.2. Goal 2: Enable participants to understand the purpose of technological literacy and its impact on student success.
1.2.1. ATLAST 2.1: understanding of links between technology and the natural, social, and designed world.
1.2.2. ATLAST 2.2: knowledge of how technology affects the lives and wellbeing of all people.
1.2.3. ATLAST 2.3: knowledge of research on technological literacy and its implications for teaching.
1.2.4. ATLAST 2.4: ability to apply technological literacy standards to science and non-technical disciplines.
1.3. Goal 3: Enable participants to leverage Web 2.0 and other open-source, free emerging technology tools to attract students to technology subject matter and improve their overall technological literacy.
1.3.1. ATLAST 3.1: knowledge of how students use technology outside the classroom and how to channel these interests and motivation to the study of science and technology.
1.3.2. ATLAST 3.2: awareness of a broad range of Internet information and social interaction resources and how they can be tapped for technological literacy education.
1.3.3. ATLAST 3.3: ability to use Web tools to develop Reusable Learning Objects (RLOs) and eportfolios.
1.3.4. ATLAST 3.4: ability to maintain up-to-date knowledge on technology using Internet RSS news feeds.
1.4. Goal 4: Integrate research within the AT LAST project that addresses key issues and questions about technological literacy in education.
1.4.1. ATLAST 4.1: define a model of technological literacy training for teachers.
1.4.2. ATLAST 4.2: explore methods to improve technological literacy via collaborative learning.
1.4.3. ATLAST 4.3: identify factors that increase and sustain interest in technology.
1.4.4. ATLAST 4.4: disseminate findings that benefit the improvement of technological literacy nationwide.
2. AZ Tech
2.1. Strand 1: Creativity and Innovation
2.1.1. Concept 1: Knowledge and Ideas
2.1.1.1. AZ 1.1.1. Analyze, evaluate, and synthesize information to generate new ideas, processes, or products.
2.1.2. Concept 2: Models and Simulations
2.1.2.1. AZ 1.2.1. Predict and test the relationships amongst interdependent elements of a digital model, simulation or system.
2.1.2.2. AZ 1.2.2. Propose or create a model, simulation, or system.
2.1.2.3. AZ 1.2.3. Predict how one system operates by comparing it to multiple systems, digital models or simulations.
2.1.3. Concept 3: Trends and Possibilities
2.1.3.1. AZ 1.3.1. Analyze patterns and trends and their logical links to form inferences, and forecast possibilities providing novel insights.
2.1.4. Concept 4: Original Works
2.1.4.1. AZ 1.4.1. Create innovative products or projects using digital tools to express original ideas.
2.1.4.2. AZ 1.4.2. Use digital collaborative tools to synthesize information, produce original works, and express ideas.
2.2. Strand 2: Communication and Collaboration
2.2.1. Concept 1: Effective Communications and Digital Interactions
2.2.1.1. AZ 2.1.1. Collaborate with peers, experts, or others in the global community employing a variety of digital tools to share findings and/or publish in a variety of ways.
2.2.1.2. AZ 2.1.2. Communicate information and ideas respectfully and effectively to multiple audiences using a variety of digital environments.
2.2.2. Concept 2: Digital Solutions
2.2.2.1. AZ 2.2.1. Communicate and collaborate for the purpose of producing original works or solving problems.
2.2.3. Concept 3: Global Connections
2.2.3.1. AZ 3.1.1. Engage in a global community to contribute to a specific global issue.
2.3. Strand 3: Research and Information Literacy
2.3.1. Concept 1: Planning
2.3.1.1. AZ 3.1.1. Identify and defend effective key words, phrases, and strategies for conducting information searches.
2.3.1.2. AZ 3.1.2. Evaluate diverse information sources.
2.3.2. Concept 2: Processing
2.3.2.1. AZ 3.2.1. Locate and synthesize information utilizing advanced search strategies including a variety of search engines, metadata search engines, deep web searches and databases.
2.3.2.2. AZ 3.2.2. Defend the authority of primary and/or secondary sources used in research.
2.3.2.3. AZ 3.2.3. Evaluate information identifying facts, opinions, bias, inaccurate and misleading information by analyzing multiple sources.
2.3.2.4. AZ 3.2.4. Synthesize research information to create new understanding and innovative solutions.
2.3.2.5. AZ 3.2.5. Apply ethical use of information and media by respecting the principles of copyrights, intellectual freedom and property rights, using information and media technology responsibly, and citing resources appropriately.
2.4. Strand 4: Critical Thinking, Problem Solving, Decision Making
2.4.1. Concept 1: Investigation
2.4.1.1. AZ 4.1.1. Write essential questions to investigate a complex (multi-step) issue using digital tools and resources.
2.4.2. Concept 2: Exploring Solutions
2.4.2.1. AZ 4.2.1. Plan and manage an individual learning project that collects multiple data sets from diverse sources, creating planning adjustments and course corrections from the knowledge gained.
2.4.2.2. AZ 4.2.2. Present defendable solutions and make decisions from multiple perspectives using collected resources and data.
2.5. Strand 5: Digital Citizenship
2.5.1. Concept 1: Safety and Ethics
2.5.1.1. AZ 5.1.1. Determine when it is appropriate and safe to use various personal digital devices.
2.5.1.2. AZ 5.1.2. Describe strategies to deal with cyber-bullying situations.
2.5.1.3. AZ 5.1.3. Advocate and practice safe, legal, and responsible use of digital tools as defined by school board policy and procedures.
2.5.1.4. AZ 5.1.4. Demonstrate safe online communication practices regarding personal information.
2.5.1.5. AZ 5.1.5. Analyze and compare how web advertising influences consumer choices.
2.5.1.6. AZ 5.1.6. Advocate and exhibit legal and ethical behavior when using technology.
2.5.2. Concept 2: Leadership for Digital Citizenship
2.5.2.1. AZ 5.2.1. Exhibit digital citizenship by consistently leading by example and advocating social and civic responsibility to others.
2.5.3. Concept 3: Impact of Technology
2.5.3.1. AZ 5.3.1. Develop a possible technological solution for a contemporary issue.
2.6. Strand 6: Technology Operations and Concepts
2.6.1. Concept 1: Understanding
2.6.1.1. AZ 6.1.1. Describe how the components of a system are integrated using appropriate terminology.
2.6.1.2. AZ 6.1.2. Define and apply knowledge of various technical process terms.
2.6.1.3. AZ 6.1.3. Choose technology applications appropriate for the audience and task.
2.6.1.4. AZ 6.1.4. Recognize and demonstrate ergonomically safe and sound use of equipment.
2.6.1.5. AZ 6.1.5. Investigate and evaluate physical risks of using digital technology.
2.6.2. Concept 2: Applications
2.6.2.1. AZ 6.2.1. Demonstrate speed and accuracy using appropriate data entry tools.
2.6.2.2. AZ 6.2.2. Compose a multiple section document that applies the most appropriate media and advanced formatting.
2.6.2.3. AZ 6.2.3. Use spreadsheets to calculate, graph, organize, and present data in a variety of real-world settings.
2.6.2.4. AZ 6.2.4. Use database features to export, organize, compile, and output data.
2.6.2.5. AZ 6.2.5. Compose media for the web with interactive capabilities.
2.6.2.6. AZ 6.2.6. Create, evaluate and critique web structure and content.
2.6.2.7. AZ 6.2.7. Use network protocols for moving files and secure web access.
2.6.3. Concept 3: Problem Solving
2.6.3.1. AZ 6.3.1. Identify and use online help and other support to learn about features of hardware, software, and connectivity as well as to assess and resolve problems.
2.6.4. Concept 4: Transfer of Knowledge
2.6.4.1. AZ 6.4.1. Transfer understanding of current technologies to new and novel learning situations.
3. Ed Professions
3.1. 1.0 ANALYZE REQUIREMENTS RELATED TO VARIOUS CAREERS WITHIN EDUCATION PROFESSIONS
3.1.1. ED 1.1 Identify career options in education at the local, state, and national levels
3.1.2. ED 1.2 Identify specific requirements to become a certified teacher or a paraprofessional in a chosen area and level of education
3.1.3. ED 1.3 Examine the state job market for various types of education employment
3.1.4. ED 1.4 Develop a career plan
3.1.5. ED 1.5 Develop a résumé
3.1.6. ED 1.6 Examine various job application processes for paraprofessional and professional positions
3.1.7. ED 1.7 Demonstrate interviewing skills
3.2. 2.0 APPLY BASIC KNOWLEDGE AND SKILLS IN A WORK-BASED LEARNING SETTING
3.2.1. ED 2.1 Demonstrate behaviors consistent with those required in education settings
3.2.2. ED 2.2 Demonstrate the skills needed to work with a diverse cultural climate
3.2.3. ED 2.3 Identify and demonstrate an understanding of professional codes of ethics
3.2.4. ED 2.4 Identify school employees' responsibilities for the health, safety and welfare of students
3.3. 3.0 APPLY ORAL COMMUNICATIONS SKILLS TO ENHANCE LEARNING
3.3.1. ED 3.1 Recognize cultural differences and other barriers in communication
3.3.2. ED 3.2 Demonstrate the use of motivational and engaging communication to provide information and discussion
3.3.3. ED 3.3 Practice the use of clear verbal directions
3.3.4. ED 3.4 Apply active listening skills to enhance communication with learners
3.4. 4.0 DEMONSTRATE WRITTEN COMMUNICATION SKILLS
3.4.1. ED 4.1 Conduct formal/informal research to collect appropriate topical information related to lesson planning and preparation
3.4.2. ED 4.2 Develop research information and outlines for classroom presentations
3.4.3. ED 4.3 Construct written communication skills, using appropriate format for the situation
3.4.4. ED 4.4 Apply multiple technologies for written and presentation communications with students, parents and administration
3.5. 5.0 ANALYZE THE ROLE OF THE EDUCATION INDUSTRY IN THE ECONOMY
3.5.1. ED 5.1 Explain the role of education in the economy: local, state, national and international
3.5.2. ED 5.2 Recognize the factors that contribute to an effective school.
3.5.3. Ed 5.3 Compare/contrast the financial advantages/disadvantages of public, charter, and private educational institutions
3.6. 6.0 RECOGNIZE THE FINANCIAL POLICIES AND PROCEDURES OF A SCHOOL DISTRICT
3.6.1. ED 6.1 Identify business and financial functions of an educational institution
3.6.2. ED 6.2 Explain how taxes impact the school district's ability to meet objectives and state and federal mandates
3.7. 7.0 EXAMINE LEADERSHIP STYLES APPROPRIATE FOR THE WORKPLACE
3.7.1. ED 7.1 Determine personal characteristics of effective leaders
3.7.2. ED 7.2 Compare/contrast leadership and management styles
3.8. 8.0 PARTICIPATE IN LEADERSHIP ACTIVITIES SUCH AS THOSE SUPPORTED BY CAREER AND TECHNICAL STUDENT ORGANIZATIONS AND RELATED EDUCATION PROFESSIONAL ORGANIZATIONS
3.8.1. ED 8.1 Identify professional organizations related to education
3.8.2. ED 8.2 Explain the benefits of professional organizations
3.8.3. ED 8.3 Determine the roles and responsibilities that leaders and followers bring to an organization
3.8.4. ED 8.4 Evaluate characteristics of an effective team member
3.8.5. ED 8.5 Evaluate characteristics of effective teams
3.8.6. ED 8.6 Practice techniques to involve each member of the team
3.8.7. ED 8.7 Demonstrate teamwork
3.8.8. ED 8.8 Practice effective meeting management
3.9. 9.0 UNDERSTAND THE HISTORY AND STRUCTURE OF EDUCATION IN THE UNITED STATES
3.9.1. ED 9.1 Outline the historical development of U.S. education
3.9.2. ED 9.2 Identify major philosophies of education
3.9.3. ED 9.3 Identify the roles of state and federal government in education
3.9.4. ED 9.4 Differentiate between private and public education approaches, including charter and alternative school approaches
3.9.5. ED 9.5 Examine current educational issues
3.9.6. ED 9.6 Compare education in the United States and in other countries
3.10. 10.0 COMPREHEND THE ROLES OF THE GOVERNING BOARD AND THE ADMINISTRATION IN RELATION TO SCHOOLS
3.10.1. ED 10.1 Explain the role of the governing board in establishing policies and objectives for the school district
3.10.2. ED 10.2 Describe how schools carry out the governing boards' policies and meet state mandates
3.10.3. Ed 10.3 Explain the roles and responsibilities of district and building administrators
3.10.4. ED 10.4 Explain the role of the district superintendent and his/her school administration and the board
3.11. 11.0 EXPLAIN THE ROLES OF SUPPORT SERVICE PERSONNEL IN SCHOOLS
3.11.1. ED 11.1 Describe the roles of certified support personnel (e.g., guidance and counseling, psychological services, librarians/media specialists, technology support, health care providers, etc.)
3.11.2. ED 11.2 Describe the roles of classified support personnel (e.g., food service workers, facility maintenance workers, transportation personnel, teacher aides, after-school program personnel, etc.)
3.11.3. ED 11.3 Describe the role of community resources in and out of the school to provide student assistance
3.12. 12.0 ANALYZE THE ROLES AND CHARACTERISTICS OF TEACHERS AND PARAPROFESSIONALS
3.12.1. ED 12.1 Examine instructional and supervisory roles for paraprofessionals
3.12.2. ED 12.2 Examine instructional and supervisory roles for teachers
3.12.3. ED 12.3 Identify the characteristics of the effective teacher and paraprofessional
3.12.4. ED 12.4 Evaluate self for characteristics that lead to success as a paraprofessional and/or teacher
3.13. 13.0 COMPREHEND THE ISSUES RELATED TO EXCEPTIONAL LEARNERS
3.13.1. ED 13.1 Comprehend the criteria and definitions related to exceptional learners, including children with disabilities and children who are gifted
3.13.2. ED 13.2 Comprehend the use of developmentally appropriate instructional interventions for cognitive, motor, self-help, social, and language activities
3.13.3. ED 13.3 Identify the components of an Individual Education Plan (IEP) including medical needs, student goals, present level of development, etc.
3.13.4. ED 13.4 Identify the legal responsibilities associated with student Individual Education Plans
3.13.5. ED 13.5 Apply the knowledge of accommodations and modifications for an exceptional learner in adapting activities for individual student's goals
3.14. 14.0 EXPLAIN THE ISSUES RELATING TO DIVERSITY AND ITS IMPACT ON TEACHING AND LEARNING
3.14.1. ED 14.1 Identify the characteristics, the challenges and the opportunities for learning in a diverse classroom
3.14.2. ED 14.2 Explain the role of teacher expectation on student performance and its impact on teaching and learning in a diverse classroom
3.14.3. ED 14.3 Describe the needs of multiple-language learners
3.14.4. ED 14.4 Describe how cultural and ethnic differences affect interpersonal interactions and communications within a group
3.15. 15.0 ANALYZE THE IMPACT OF CLASSROOM MANAGEMENT AND DISCIPLINE STRATEGIES ON STUDENT LEARNING
3.15.1. ED 15.1 Identify the relationship between effective instructional strategies and classroom management
3.15.2. ED 15.2 Identify discipline strategies needed in various classroom situations
3.15.3. ED 15.3 Analyze the relationship of instructional strategies, learning objectives, and learner involvement, and their impact on student behaviors
3.16. 16.0 COMPREHEND THE STAGES OF HUMAN DEVELOPMENT AND THEIR IMPACT ON LEARNING AND THE CLASSROOM
3.16.1. ED 16.1 Identify the stages of physical development through adolescence
3.16.2. ED 16.2 Recognize cognitive development from birth through adolescence
3.16.3. ED 16.3 Recognize psychosocial development theory
3.16.4. ED 16.4 Recognize emotional development theory
3.16.5. ED 16.5 Recognize character development theories
3.17. 17.0 IDENTIFY INSTRUCTIONAL METHODS FOR STUDENT LEARNING
3.17.1. ED 17.1 Investigate various methods of instruction
3.17.2. ED 17.2 Identify teaching methods that accommodate various learning styles
3.17.3. ED 17.3 Describe strategies for addressing the needs of unmotivated students and students from challenging environments
3.17.4. ED 17.4 Identify different assessment techniques for feedback to students and/or guiding instruction
3.18. 18.0 CREATE A LESSON PLAN AND RELATED ACTIVITIES TO MEET THE NEEDS OF LEARNERS
3.18.1. ED 18.1 Develop objectives that are aligned with state and district standards
3.18.2. ED 18.2 Integrate the components of a lesson plan with activities and instructional materials
3.18.3. ED 18.3 Implement a lesson and a planned learning activity
3.18.4. ED 18.4 Conduct a reflective evaluation of the implemented lesson plan
3.19. APPLY TECHNOLOGY FOR INSTRUCTION AND MANAGEMENT
3.19.1. ED 19.1 Evaluate lessons to determine how technology could improve the teacher's ability to address different learning needs
3.19.2. ED 19.2 Investigate a new technology application that can be used to improve teaching and/or learning
3.19.3. ED 19.3 Identify digital resources that help teachers in planning instruction, classroom management, and communication
3.19.4. ED 19.4 Apply knowledge and skills of technology to integrate content areas with interactive student learning activities
3.19.5. ED 19.5 Integrate technology relevant to lesson planning, teaching, and classroom management and assessment
3.19.6. ED 19.6 Identify the ways that virtual cyber learning may impact the future of education
4. ISTE NETS*T
4.1. 1. Facilitate and Inspire Student Learning and Creativity Teachers use their knowledge of subject matter, teaching and learning, and technology to facilitate experiences that advance student learning, creativity, and innovation in both face-to-face and virtual environments. Teachers:
4.1.1. NETS*T 1.a. promote, support, and model creative and innovative thinking and inventiveness
4.1.2. NETS*T 1.b. engage students in exploring real-world issues and solving authentic problems using digital tools and resources
4.1.3. NETS*T 1.c. promote student reflection using collaborative tools to reveal and clarify students' conceptual understanding and thinking, planning, and creative processes
4.1.4. NETS*T 1.d. model collaborative knowledge construction by engaging in learning with students, colleagues, and others in face-to-face and virtual environments
4.2. 2. Design and Develop Digital-Age Learning Experiences and Assessments Teachers design, develop, and evaluate authentic learning experiences and assessments incorporating contemporary tools and resources to maximize content learning in context and to develop the knowledge, skills, and attitudes identified in the NETS•S. Teachers:
4.2.1. NETS*T 2.a. design or adapt relevant learning experiences that incorporate digital tools and resources to promote student learning and creativity
4.2.2. NETS*T 2.b. develop technology-enriched learning environments that enable all students to pursue their individual curiosities and become active participants in setting their own educational goals, managing their own learning, and assessing their own progress
4.2.3. NETS*T 2.c. customize and personalize learning activities to address students' diverse learning styles, working strategies, and abilities using digital tools and resources
4.2.4. NETS*T 2.d. provide students with multiple and varied formative and summative assessments aligned with content and technology standards and use resulting data to inform learning and teaching
4.3. 3. Model Digital-Age Work and Learning Teachers exhibit knowledge, skills, and work processes representative of an innovative professional in a global and digital society. Teachers
4.3.1. NETS*T 3.a. demonstrate fluency in technology systems and the transfer of current knowledge to new technologies and situations
4.3.2. NETS*T 3.b. collaborate with students, peers, parents, and community members using digital tools and resources to support student success and innovation
4.3.3. NETS*T 3.c. communicate relevant information and ideas effectively to students, parents, and peers using a variety of digital-age media and formats
4.3.4. NETS*T 3.d. model and facilitate effective use of current and emerging digital tools to locate, analyze, evaluate, and use information resources to support research and learning
4.4. 4. Promote and Model Digital Citizenship and Responsibility Teachers understand local and global societal issues and responsibilities in an evolving digital culture and exhibit legal and ethical behavior in their professional practices. Teachers:
4.4.1. NETS*T 4.a. advocate, model, and teach safe, legal, and ethical use of digital information and technology, including respect for copyright, intellectual property, and the appropriate documentation of sources
4.4.2. NETS*T 4.b. address the diverse needs of all learners by using learner-centered strategies and providing equitable access to appropriate digital tools and resources
4.4.3. NETS*T 4.c. promote and model digital etiquette and responsible social interactions related to the use of technology and information
4.4.4. NETS*T 4.d. develop and model cultural understanding and global awareness by engaging with colleagues and students of other cultures using digital-age communication and collaboration tools
4.5. 5. Engage in Professional Growth and Leadership Teachers continuously improve their professional practice, model lifelong learning, and exhibit leadership in their school and professional community by promoting and demonstrating the effective use of digital tools and resources. Teachers:
4.5.1. NETS*T 5.a. participate in local and global learning communities to explore creative applications of technology to improve student learning
4.5.2. NETS*T 5.b. exhibit leadership by demonstrating a vision of technology infusion, participating in shared decision making and community building, and developing the leadership and technology skills of others
4.5.3. NETS*T 5.c. evaluate and reflect on current research and professional practice on a regular basis to make effective use of existing and emerging digital tools and resources in support of student learning
4.5.4. NETS*T 5.d. contribute to the effectiveness, vitality, and self-renewal of the teaching profession and of their school and community
5. ISTE NETS*S
5.1. 1. Creativity and Innovation Students demonstrate creative thinking, construct knowledge, and develop innovative products and processes using technology. Students:
5.1.1. NETS*S 1.a. apply existing knowledge to generate new ideas, products, or processes.
5.1.2. NETS*S 1.b. create original works as a means of personal or group expression.
5.1.3. NETS*S 1.c. use models and simulations to explore complex systems and issues.
5.1.4. NETS*S 1.d. identify trends and forecast possibilities.
5.2. 2. Communication and Collaboration Students use digital media and environments to communicate and work collaboratively, including at a distance, to support individual learning and contribute to the learning of others. Students:
5.2.1. NETS*S 2.a. interact, collaborate, and publish with peers, experts, or others employing a variety of digital environments and media.
5.2.2. NETS*S 2.b. communicate information and ideas effectively to multiple audiences using a variety of media and formats.
5.2.3. NETS*S 2.c. develop cultural understanding and global awareness by engaging with learners of other cultures.
5.2.4. NETS*S 2.d. contribute to project teams to produce original works or solve problems.
5.3. 3. Research and Information Fluency Students apply digital tools to gather, evaluate, and use information. Students:
5.3.1. NETS*S 3.a. plan strategies to guide inquiry.
5.3.2. NETS*S 3.b. locate, organize, analyze, evaluate, synthesize, and ethically use information from a variety of sources and media.
5.3.3. NETS*S 3.c. evaluate and select information sources and digital tools based on the appropriateness to specific tasks.
5.3.4. NETS*S 3.d. process data and report results.
5.4. 4. Critical Thinking, Problem Solving, and Decision Making Students use critical thinking skills to plan and conduct research, manage projects, solve problems, and make informed decisions using appropriate digital tools and resources. Students:
5.4.1. NETS*S 4.a. identify and define authentic problems and significant questions for investigation.
5.4.2. NETS*S 4.b. plan and manage activities to develop a solution or complete a project.
5.4.3. NETS*S 4.c. collect and analyze data to identify solutions and/or make informed decisions.
5.4.4. NETS*S 4.d. use multiple processes and diverse perspectives to explore alternative solutions.
5.5. 5. Digital Citizenship Students understand human, cultural, and societal issues related to technology and practice legal and ethical behavior. Students:
5.5.1. NETS*S 5.a. advocate and practice safe, legal, and responsible use of information and technology.
5.5.2. NETS*S 5.b. exhibit a positive attitude toward using technology that supports collaboration, learning, and productivity.
5.5.3. NETS*S 5.c. demonstrate personal responsibility for lifelong learning.
5.5.4. NETS*S 5.d. exhibit leadership for digital citizenship.
5.6. 6. Technology Operations and Concepts Students demonstrate a sound understanding of technology concepts, systems, and operations. Students:
5.6.1. NETS*S 6.a. understand and use technology systems.
5.6.2. NETS*S 6.b. select and use applications effectively and productively.
5.6.3. NETS*S 6.c. troubleshoot systems and applications.
5.6.4. NETS*S 6.d. transfer current knowledge to learning of new technologies.
6. ITEA
6.1. The Nature of Technology
6.1.1. ITEA Standard 1. Students will develop an understanding of the characteristics and scope of technology.
6.1.2. ITEA Standard 2. Students will develop an understanding of the core concepts of technology.
6.1.3. ITEA Standard 3. Students will develop an understanding of the relationships among technologies and the connections between technology and other fields of study.
6.2. Technology and Society
6.2.1. ITEA Standard 4. Students will develop an understanding of the cultural, social, economic, and political effects of technology.
6.2.2. ITEA Standard 5. Students will develop an understanding of the effects of technology on the environment.
6.2.3. ITEA Standard 6. Students will develop an understanding of the role of society in the development and use of technology.
6.2.4. ITEA Standard 7. Students will develop an understanding of the influence of technology on history.
6.3. Design
6.3.1. ITEA Standard 8. Students will develop an understanding of the attributes of design.
6.3.2. ITEA Standard 9. Students will develop an understanding of engineering design.
6.3.3. ITEA Standard 10. Students will develop an understanding of the role of troubleshooting, research and development, invention and innovation, and experimentation in problem solving.
6.4. Abilities for a Technological World
6.4.1. ITEA Standard 11. Students will develop abilities to apply the design process.
6.4.2. ITEA Standard 12. Students will develop abilities to use and maintain technological products and systems.
6.4.3. ITEA Standard 13. Students will develop abilities to assess the impact of products and systems.
6.5. The Designed World
6.5.1. ITEA Standard 14. Students will develop an understanding of and be able to select and use medical technologies.
6.5.2. ITEA Standard 15. Students will develop an understanding of and be able to select and use agricultural and related biotechnologies.
6.5.3. ITEA Standard 16. Students will develop an understanding of and be able to select and use energy and power technologies.
6.5.4. ITEA Standard 17. Students will develop an understanding of and be able to select and use information and communication technologies.
6.5.5. ITEA Standard 18. Students will develop an understanding of and be able to select and use transportation technologies.
6.5.6. ITEA Standard 19. Students will develop an understanding of and be able to select and use manufacturing technologies.
6.5.7. ITEA Standard 20. Students will develop an understanding of and be able to select and use construction technologies.