Map of Standards
by
Jeannette Shaffer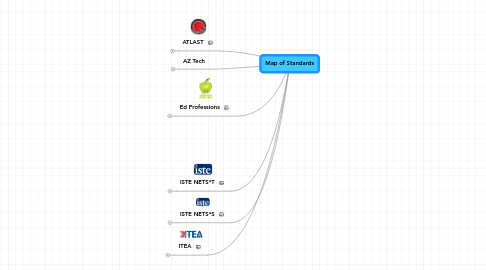 0.0
stars -
0
reviews range from
0
to
5
Map of Standards
ISTE NETS*T
1. Facilitate and Inspire Student Learning and Creativity Teachers use their knowledge of subject matter, teaching and learning, and technology to facilitate experiences that advance student learning, creativity, and innovation in both face-to-face and virtual environments. Teachers:
2. Design and Develop Digital-Age Learning Experiences and Assessments Teachers design, develop, and evaluate authentic learning experiences and assessments incorporating contemporary tools and resources to maximize content learning in context and to develop the knowledge, skills, and attitudes identified in the NETS•S. Teachers:
3. Model Digital-Age Work and Learning Teachers exhibit knowledge, skills, and work processes representative of an innovative professional in a global and digital society. Teachers
4. Promote and Model Digital Citizenship and Responsibility Teachers understand local and global societal issues and responsibilities in an evolving digital culture and exhibit legal and ethical behavior in their professional practices. Teachers:
5. Engage in Professional Growth and Leadership Teachers continuously improve their professional practice, model lifelong learning, and exhibit leadership in their school and professional community by promoting and demonstrating the effective use of digital tools and resources. Teachers:
ISTE NETS*S
1. Creativity and Innovation Students demonstrate creative thinking, construct knowledge, and develop innovative products and processes using technology. Students:
2. Communication and Collaboration Students use digital media and environments to communicate and work collaboratively, including at a distance, to support individual learning and contribute to the learning of others. Students:
3. Research and Information Fluency Students apply digital tools to gather, evaluate, and use information. Students:
4. Critical Thinking, Problem Solving, and Decision Making Students use critical thinking skills to plan and conduct research, manage projects, solve problems, and make informed decisions using appropriate digital tools and resources. Students:
5. Digital Citizenship Students understand human, cultural, and societal issues related to technology and practice legal and ethical behavior. Students:
6. Technology Operations and Concepts Students demonstrate a sound understanding of technology concepts, systems, and operations. Students:
ATLAST
Goal 1: Provide Arizona participants with knowledge and understanding of regional high-tech industry, impact on Arizona residents, and future career opportunities for students.
Goal 2: Enable participants to understand the purpose of technological literacy and its impact on student success.
Goal 3: Enable participants to leverage Web 2.0 and other open-source, free emerging technology tools to attract students to technology subject matter and improve their overall technological literacy.
Goal 4: Integrate research within the AT LAST project that addresses key issues and questions about technological literacy in education.
AZ Tech
Strand 1: Creativity and Innovation
Strand 2: Communication and Collaboration
Strand 3: Research and Information Literacy
Strand 4: Critical Thinking, Problem Solving, Decision Making
Strand 5: Digital Citizenship
Strand 6: Technology Operations and Concepts
ITEA
The Nature of Technology
Technology and Society
Design
Abilities for a Technological World
The Designed World
Ed Professions
1.0 ANALYZE REQUIREMENTS RELATED TO VARIOUS CAREERS WITHIN EDUCATION PROFESSIONS
2.0 APPLY BASIC KNOWLEDGE AND SKILLS IN A WORK-BASED LEARNING SETTING
3.0 APPLY ORAL COMMUNICATIONS SKILLS TO ENHANCE LEARNING
4.0 DEMONSTRATE WRITTEN COMMUNICATION SKILLS
5.0 ANALYZE THE ROLE OF THE EDUCATION INDUSTRY IN THE ECONOMY
6.0 RECOGNIZE THE FINANCIAL POLICIES AND PROCEDURES OF A SCHOOL DISTRICT
7.0 EXAMINE LEADERSHIP STYLES APPROPRIATE FOR THE WORKPLACE
8.0 PARTICIPATE IN LEADERSHIP ACTIVITIES SUCH AS THOSE SUPPORTED BY CAREER AND TECHNICAL STUDENT ORGANIZATIONS AND RELATED EDUCATION PROFESSIONAL ORGANIZATIONS
9.0 UNDERSTAND THE HISTORY AND STRUCTURE OF EDUCATION IN THE UNITED STATES
10.0 COMPREHEND THE ROLES OF THE GOVERNING BOARD AND THE ADMINISTRATION IN RELATION TO SCHOOLS
11.0 EXPLAIN THE ROLES OF SUPPORT SERVICE PERSONNEL IN SCHOOLS
12.0 ANALYZE THE ROLES AND CHARACTERISTICS OF TEACHERS AND PARAPROFESSIONALS
13.0 COMPREHEND THE ISSUES RELATED TO EXCEPTIONAL LEARNERS
14.0 EXPLAIN THE ISSUES RELATING TO DIVERSITY AND ITS IMPACT ON TEACHING AND LEARNING
15.0 ANALYZE THE IMPACT OF CLASSROOM MANAGEMENT AND DISCIPLINE STRATEGIES ON STUDENT LEARNING
16.0 COMPREHEND THE STAGES OF HUMAN DEVELOPMENT AND THEIR IMPACT ON LEARNING AND THE CLASSROOM
17.0 IDENTIFY INSTRUCTIONAL METHODS FOR STUDENT LEARNING
18.0 CREATE A LESSON PLAN AND RELATED ACTIVITIES TO MEET THE NEEDS OF LEARNERS
APPLY TECHNOLOGY FOR INSTRUCTION AND MANAGEMENT