System & Method for Broadcasting, Showcasing and Interacting with Multimedia Portfolios
by Joseariel Gomez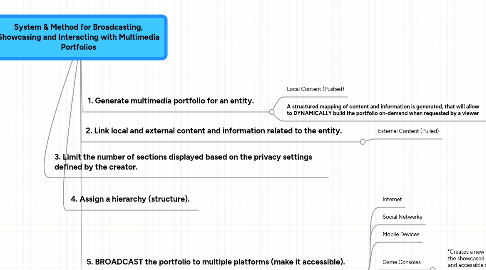 1. 1. Generate multimedia portfolio for an entity.
1.1. Local Content (Pushed)
1.2. A structured mapping of content and information is generated, that will allow to DYNAMICALLY build the portfolio on-demand when requested by a viewer
2. 2. Link local and external content and information related to the entity.
2.1. External Content (Pulled)
3. 3. Limit the number of sections displayed based on the privacy settings defined by the creator.
4. 4. Assign a hierarchy (structure).
5. 5. BROADCAST the portfolio to multiple platforms (make it accessible).
5.1. Internet
5.2. Social Networks
5.3. Mobile Devices
5.4. Game Consoles
5.4.1. "Creates a new environment with a specific context revolving around the showcased entity with its own navigation and hierarchy. Embedded and accessible seamlessly without leaving your current location within the local platform."
5.5. Mp3 Players
5.6. TVs
5.7. Book Readers