Different Marketing Channels Which Sell Computer Hardware & Software
by
Alex Vitale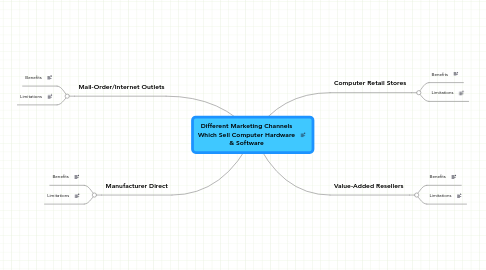 0.0
stars - reviews range from
0
to
5
Different Marketing Channels Which Sell Computer Hardware & Software
Manufacturers of hardware and software try to reach out to consumers in a variety of ways. They make their products available through many different sources. This computer software and hardware is sold through marketing outlets. These markieting outlets are called marketing channels, and they include computer retail stores, mail-order/internet outlets, value-added resellers and manufacturer direct.
Computer Retail Stores
Benefits
There are many more benefits of using a retail store than there are limitations. For one, retail stores often have staff members that are technically qualified to assist you the customer in finding a product that will fit your needs. They are very knowledgeable about a variety of products. On top of that, many retail stores provide technical support, repair hardware products and offer a few training classes to help you adjust to your new product.
Limitations
Limitations include the prices the buyer is paying. It is a fairly expensive channel for software and hardware. Prices at retail stores are not only for the merchandise, but they include built in costs for maintainging a retail storefront and hiring a staff of qualified technicians.
Mail-Order/Internet Outlets
Benefits
Mail and internet orders are a good type of channel for experienced buyers of computers. The benefit of ordering through mail or internet is that these companies generally offer low prices. It is also a simple way of ordering. A vendor will take orders through the telephone, or a customer can just make an order online. Most experienced computer users are happy with mail or internet orders.
Limitations
In contrast to computer retail stores, the mail-order channel may not be suitable for unexperienced users or buyers. Mail or internet orders are often only used by experienced computer users. The downside of using internet or mail orders is that a buyer will not recieve much support after buying their product. A mail order is normally used by the experienced customer who will be able to set up their own software and install different components on their own. The average day to day person may not be satisfied with the assistance they recieve when using the mail-order channel.
Value-Added Resellers
Benefits
The main benefit of using a value-added reseller is that they are the only source for specialized computer systems. When going to buy a computer system designed to meet the needs of a certain industry, it is the easiest to use a VAR. They are very beneficial because when buying this type of system their expertise can be crucial to ensure that the product is working properly in a specific environment. If using a value-added retail seller you knock out the task of having to piece together the hardware and software components yourself.
Limitations
The biggest problem with using a value-added reseller is the price. VARs do charge for their expertise of designing a computer system to fit your needs. Value-added resellers are the most expensive channel for software and hardware out there.
Manufacturer Direct
Benefits
Purchasing hardware or software from a manufacturer directly is very beneficial to the buyer. The advantage of going through the manufacturer is that customers are allowed to select from a variety of standard models and or configure their own build. This allows customers to build a computer that will fit their needs and it is built just for them. In addition to allowing a cutomer to custom build their product, the manufacturer provides them with technical supprt. They have a technically qualified staff ready to help the customer with whatever problems they run into.
Limitations
The downfall of using manufacturers directly is that they are mainly out to target large corporations to cover the sales representative's costs and comissions. Another limitation that may or may not affect a buyer is that manufacturers attempt to restrict the way products are advertised and sold. So for example, some computer brands may not be allowed to advertise discounted prices which would be helpful to the buyer.