School Options. . .
by Claudia Ramirez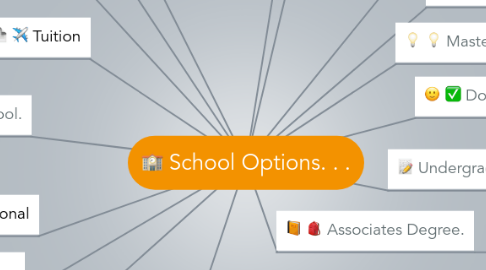 1. College.
1.1. Public, Private, Two-Years, And Four- Years
1.2. Four-Years: Each US state administers its own system of higher education
1.3. Two-Years: Offers college information for programs and degrees of two-year online and campus colleges, career, specialty, technical, trade and vocational schools, and community and junior colleges in the US and Canada
1.4. Public:These institutions receive most of their funding from the states they are located in.
1.5. Private:You want to find a great program that will give you the training you need to achieve your goals, but there's much more to the decision process than identifying a top-rated program and signing up.
2. High School.
2.1. (Pre-School-12)
2.2. The US education structure includes 12 years of regular schooling (K1 to K-12), preceded by a year or two of pre-school education (kinder garden).
2.3. Completion of each level or stage is a prerequisite for access to the next, and a variety of assessment and evaluation tools are used to determine learning needs, academic achievement standards, and eligibility to proceed to higher levels of education.
3. Careers. . .
3.1. These terms are often used interchangeably. May be public or private, two year or less-than-two year.
3.2. prepare students for specific careers and may last weeks, months, or years, depending on career requirements.
3.3. usually receive a license, a certificate, or an associate degree.
4. Undergraduate Degree
4.1. A set of distributed course requirements that must be completed involving basic study in several subjects; and a concentrated program of study in one or more subjects.
4.2. Two post secondary degrees are awarded at the undergraduate level: The Associate Degree and The Bachelor's Degree.
4.3. Students at the undergraduate levels may earn certificates or diplomas in addition to degrees or instead of them.
5. Junior College
5.1. Is usually a private school.
5.2. Offers college information for programs and degrees of two-year online and campus colleges, career, specialty, technical, trade and vocational schools
6. Community College
6.1. Offers college information for programs and degrees of two-year online and campus colleges, career, specialty, technical, trade and vocational schools
6.2. Typically community college are open admissions
6.3. placed into a major, the individual must have a high school diploma, GED, or be placed according to ability to benefit.
6.4. They are open to those 18 years of age or older
7. Distance Education
7.1. Is an increasingly popular way to study for everything from a short professional course to a graduate degree in the United States, and there are numerous institutions offering undergraduate degree programs using distance education teaching methods involving. "the process of extending learning, or delivering instructional resource-sharing opportunities, to locations away from a classroom, building or site, to another classroom, building or site by using video, audio, computer, multimedia communications, or some combination of these with other traditional delivery methods."
8. University
8.1. Universities tend to be larger than colleges, focus more on scholarly or scientific research, and might have larger class sizes
8.2. offer the two year and four-year degrees as well as graduate degrees in advanced studies beyond four years.
8.3. grants bachelor's and master's degrees, and sometimes usually include a liberal arts college, some professional schools or colleges, and graduate programs such as a law school or medical school.
9. Graduate Degree.
9.1. It corresponds to what is called post-graduate or advanced education in some other systems.
9.2. Professional studies that require the student to have already earned an undergraduate degree. bachelor's degree or a professional degree.
10. Master's Degree.
10.1. can earn a bachelors degree from a 2-year community college, you may need to attend a university to complete your masters.
10.2. your degree from a local university, study abroad, or enroll in an online masters degree program.
10.3. MAs. Or MEng - master of engineering MBA - master of engineering MFA - master of fine arts MLS - master of library science
11. Doctorate Degree
11.1. if you are geographically isolated, physically challenged, have a young family to look after, or maybe you might struggle to finance a full time program, the range of Doctorate programs on offer is now broader than ever.
11.2. a doctorate to increase your earning power, improve your career prospects, achieve industry recognition or you just want to prove that 'you can'; there is a wealth of opportunity awaiting you.
12. Bachelors Degree
12.1. is the undergraduate degree offered by four-year colleges and universities.
12.2. The minimum credit hour requirement for a Bachelor's Degree is 120 hours.
13. FAFSA
13.1. Free Application for Federal Student Aid
13.2. The almost universal application for financial aid, including loans, grants, college work-study and other federal and state programs. It is often required before a student can be considered for scholarships also.
14. Associates Degree.
14.1. is granted upon completion of a program of at least two, but less than four years of college work.
14.2. The Associate Degree requires completion of a minimum of 60 credit hours, exclusive of physical education activity courses or military science courses, with a cumulative GPA of 2.0 (a "C" average).
15. ACT and SAT
15.1. These letters are acronyms for the American College Test and the Scholastic Aptitude Test.
15.2. Both tests are designed to measure a student's level of knowledge in basic areas such as math, science, English and social studies.
15.3. Colleges may require the results of either the ACT or SAT before granting admission.
16. Tuition
16.1. the amount paid for each credit hour of enrollment.
16.2. oes not include the cost of books, fees, or room and board.
16.3. charges vary from college to college and are dependent on such factors as resident or out-of-state status, level of classes enrolled in (lower, upper or graduate division), and whether the institution is publicly or privately financed.
17. vocational
17.1. schools are privately owned and operated schools that offer a wide variety of training options, such as computer technology, cosmetology, mechanical repair, court reporting, paralegal services, office administration, and medical assistance.
17.2. from five to 12 months to as much as three years to complete.
17.3. usually have open admissions, which means they will admit all students interested in attending.