Does Crowdfunding make sense for my project
by
Dizzlike Crowdfunding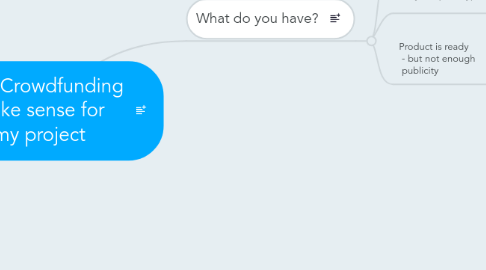 0.0
stars - reviews range from
0
to
5
Does Crowdfunding make sense for my project
Crowdfunding For example, we"ll pick the branch for IT-Products, Games etc. You know best, how your category works, how much money is "too much" etc. Of course there are single projects where you need nothing but the idea. Even if it sounds hard: You need money to realize your product - otherwise you wouldn"t read this article.
What do you have?
What you will need for a successful Crowdfunding-Campaign:   A good idea A prototype A large fanbase or money  
A new idea
This is the worst-case scenario for everyone who wants to start a crowdfunding-campaign. From here on it will be very hard and your campaign will be limited because you can"t just try to get $1Million without anything.
Only the prototype
You only need money to have a final product and publicity.  
Product is ready - but not enough publicity
You already have the product and only need publicity so people get to know you.
Is your community active?
http://www.crowdcrux.com/kickstarter-and-indiegogo-are-not-about-money-they-are-about-community/
No
Yes