First Language Acquisition
by julio gonzalez isidro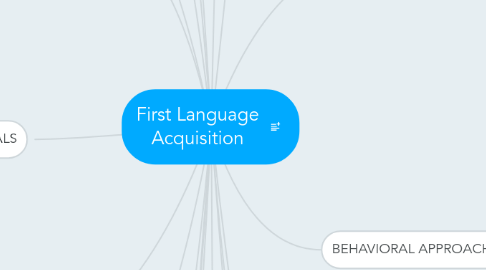 1. CHALLENGES TO NATIVIST APPROACHES
1.1. generative rules or items in a linguistic sense are connected serially
1.2. PDP parallel distributed processing based on the notion that information is processed simultaneously at several levels attention
1.2.1. brain is attending to letters,word juncture and meaning,syntactic relationships,textual discourse and background experiences
1.2.2. Closely concept is a branch of psycholinguistic inquiry CONNECTIONISM
1.2.3. THEY HAVE MADE SEVERAL IMPORTANT CONTRIBUTIONS TO OUR UNDERSTANDING OF THE FIRST LANGUAGE ACQUISITION
2. FLA
2.1. The marvelous capacity for acquiring competence in one's native language within the first few years of life has been a subject of interest for many countries
2.2. Modern research on child language acquisition dates back to the latter part of the eighteen century
2.2.1. Dietrich Tiedemann
2.2.1.1. Recorded his observation of the psichological and linguisttic development of his young son
2.2.2. Francois Gouin
2.2.2.1. Observed the language acquisition of his nephew and from those insights derived what came to be known as the series Method of foreign language teaching
2.3. In a matter of a few decades some giant strides were taken especially in the generative and cognitive models of language, in ddescribing the acquisition of particular languages, and in probing universal aspects of acquisition
2.4. This wave of research in child language acquisition led language teachers and teacher trainers to study some of the general findings of such research with a view to drawing analogies between first and second language acquisition, and even to justifying certain teaching methods and techniques on the basis of first language learning principles
2.5. All children given a normal developmental environment, acquiere their native langueges fluently and effeciently; moreover, they acquire them "naturally" without special instruction, although not without significant effort and attention to language
2.6. A coherent grasp of the nature of first language learning is an invaluable aid, if not an essential component in the instruction of a theory of second language acquisition.
3. CHALLENGES TO BEHAVIORAL APPROACHES
3.1. Some psychologist proposed modified theorical positions
3.1.1. mediation theory
3.1.1.1. it was accounted for by the claim that the linguistic stimulus
3.1.2. The abstract nature of language and the relantionship between meaning and utterance were unresolved
3.1.2.1. their conjectures were speculative and premature
3.2. They claimed that the child may acquire frames of linear pattern of sentence elements and learn the stimulus-response equivalences that can be substitude within each frame,imitation was important,if not essential,aspect of establishing stimulus-response associations
4. THEORIES OF FIRST LANGUAGE ACQUISITION
4.1. by about 18 months of age, these words have multiplied considerably and are begininning to appear in two-word and tree-word sentences
4.1.1. commo refered to as telegraphic
4.2. By 2 years of age, children are comprehending more sophisticated language and their production repertoire is mushrooming, even to forming questions and negatives
4.3. By 3 children can comprehend and amazing quantity of linguistic input. their speech and comprehension capacity geometrically increases as they become the generators of nonstop chattering and incessant conversation
4.4. At school children not only learn what to say but what not to say as they learn the social functions of their language
4.5. At the other constructivist extreme is the position that makes not only the cognitivist claim that children come into this world with very specific innate knowledge, predispositions and biological timetables, but that children learn to function in a language chiefly throgh interaction and discourse
5. BEHAVIORAL APPROACHES
5.1. Language is fundamental part of total human behavior, and behavioral psychologists exained it as such and sought to formulate consistent theories of first language acquisition
5.2. SKINNER
5.2.1. his theory of verbal behavior was an extension of his general theory of learning by operant conditioning
5.2.1.1. Operrant conditioning refers to conditioning in which the organism emits a response, or operant without necessarily observable stimuli
5.2.2. According to him , verbal behavior is controlled by its consequences
5.2.2.1. When consequences are rewarding, behavior is maintained and increased in strength and prhaps frequently
5.2.2.2. When consequences are punishing, or when there's total lack of reinsforcement, the behavior is weakend and eventually extinguished
6. THE NATIVIST APPROACH
6.1. The term nativist is derived from the fundamental assertion that we are born with a genetic capacity that predisposes us to a systematic perception of language around us,resulting in the construction of an internalized system of language
6.2. CHOMSKY
6.2.1. claimed the existence of innate properties of language to explain the child's mastery of a native language in such a short time despite the highly abstract nature of the rules of language.
6.2.1.1. This knowledge was embodied in a metaphorical little black box in the brain LAD language adcquisition divice
6.3. UG universal grammar
6.3.1. Research attempts to discover what it is that all children,regardless of their environmental stimuli bring to the languahçge acquisition process
6.3.1.1. Such studies have looked at question formation,negation,word order,discontinuity of embedded clauses
6.4. PIVOT GRAMMAR
6.4.1. the first class of words, since they could pivot around a number of words in the second open class
7. FUNCTIONAL APPROACHES
7.1. Constructivist perspectives
7.1.1. Describe as a move even more deeply into the essence of language
7.1.1.1. That language was just one manifestation of the cognitive and affective ability to deal with the world, with others and with the self
7.1.1.2. the generative rules that were proposed under the nativist framework were abstract,formal,explicit, and quite logical,yet they dealt specifically with the forms of language and not with the deeper functional levels of meaning constructed from social interaction
8. COGNITION AND LANGUAGE DEVELOPMENT
8.1. LOIS BLOOM
8.1.1. CONCLUDED THAT CHILDREN LEARN UNDERLYING STRUCTURES AND NOT SUPERFICIAL WORD ORDER
8.1.1.1. depending on the social context
8.2. PIAGET
8.2.1. Children learn about language is determined by waht they already know about the world
9. SOCIAL INTERACTION AND LANGUAGE DEVELOPMENT
9.1. IT HAS BECOME QUITE CLEAR THAT LANGUAGE FUNCTIONING EXTENDS WELL BEYOND COGNITIVE THOUGH AND MEMORY STRUCTURE
9.2. Centered on one of the thorniest areas of linguistic research the function language is discourse
9.3. hesitations,pauses,backtracking and the like are indeed significant conversational cues
10. COMPETENCE AND PERFORMANCE
10.1. COMPETENCE
10.1.1. One's underlying knowledge of a system,event or fact
10.1.1.1. it is the actual doing of something,walking,singing etc.
10.2. the competence-performance model has not met with universal acceptance
10.3. CHOMSKY
10.3.1. CONSIST OF THE ABILITIES OF AN IDEALIZED hearer-speaker,devoid of any so called performance variables
11. COMPREHENSION AND PRODUCTION
11.1. Thay can be aspects of both performance and competence
11.1.1. comprehension is as much performance
11.1.2. production is of course more directly observable
11.2. linguistic competence no doubt has several modes or levels, at least as many as 4 since speaking,listening,reading and writing are all separate modes of performance
11.3. Behooves us to be wary in concluding that all asopects of linguistic comprehension precede, or facilitate,linguistic production
12. NATURE OR NURTURE
12.1. Language acquisition is universal that every child acquires language
12.2. Human beings will bloom in predetermined,preprogrammed steps
13. UNIVERSALS
13.1. Language is universally acquired in the same manner and moreover that the deep structure of language at its deepest level may be common to all languages
13.2. UG research is centered around what have come to be known as principles and parameters
13.2.1. Principles are invariable characteristics of human language that appear to apply to all languages universally
13.2.2. Parameter is the latter
13.3. the child's initial state is said to consist of a set of universal principles which specify some limited possibilities of variation,expressible in terms of parameters which need to be fixed in one of a few possible ways
13.4. structure dependency
13.4.1. states that language is organized in such a way that it crucially depends on the structural relationships between elements in a sentence
13.5. According to UG languages cannot vary in an infinitive number of ways. Parameters determine ways in which languages can vary
14. SYSTEMATICITY AND VARIABILITY
14.1. One of the assumptions of a good deal of current research on child language is the systematicity
14.2. various stages of language acquisition even in English
15. LANGUAGE AND THOUGHT
15.1. the language is a way of life,is at the foundation of our being, and interacts simultaneously with thoghts and feelings
15.2. cognitive and linguistic development are inextricably intertwined with dependencies in both directions
15.3. It is to determine how thought affects laNGUAGE,HOW LANGUAGE AFFECTS THOUGHT, AND HOW LINGUISTICS CAN BEST describe and account for the interaction of the two,
16. IMITATION
16.1. It is one of the most important strategies and child uses in the acquisition of language
16.2. echoing is particularly salient strategy in early language learning and an important aspect of early phonological acquisition
16.3. the first type is the surface-structure imitation whare a person repeats or mimics the surface strings,attending to a phonological code rather than a semantic code
16.4. Children are excellent imitators. It is simply a matter of understanding exactly what it is that they are imitating
17. PRECTICE AND FREQUENCY
17.1. a BEHAVIORAL MODEL OF first language acquisition would claim that practice-repetition and association- is the key to the formation of habits by operant conditioning
17.2. children's practice seems to be a key to language acquisition
17.3. frequency of meaningful occurrence may well be a more precise refinement of the notion of frequency
18. INPUT
18.1. the role of input in the child's acquisition of language is undeniably crucial
18.2. the speech that young children hear is primarily the speech heard in the home
18.3. nurture and environment are tremendously important although it remains to be seen just how important parental input is as a proportion of total input
19. DISCOURSE
19.1. it's a significant part of the child's development of conversational rules the interaction with peers and of course with other adults
19.2. the barrier of the discourse is one of the most difficult for second language learners to break through
20. FIRST LANGUAGE ACQUISITION INSIGHTS APPLIED TO LANGUAGE TEACHING
20.1. Language learning is primarly a matter of transforming perceptions into conceptions.children use language to represent their conceptions
20.2. direct method
20.2.1. it was used in the past and short-lived movement in language teaching would reappear in the changing life