Parts of Speech
by Summer Kim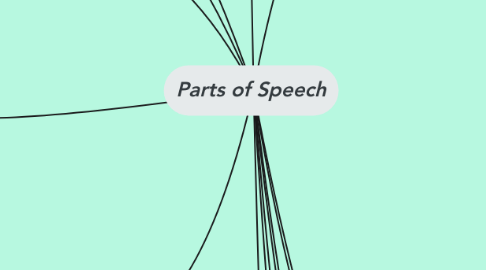 1. Subject
1.1. Simple Subject
1.2. Complete Subject
1.3. Compound Subject
2. Predicate
2.1. Simple Predicate
2.2. Complex Predicate
2.3. Compound Predicate
3. Object Complement
3.1. Completes the meaning of a direct object
4. Subject Complement
4.1. Identifies or describe a subject
5. Nouns -
5.1. outside of prepositional and other phrases, nouns will usually also be the subject or object of sentence
5.2. Common
5.3. Proper
5.4. Abstract
5.5. Collective
6. Tense
6.1. Present Tense
6.1.1. Present Perfect Tense
6.1.2. Present Progressive
6.1.3. Present Emphatic
6.2. Past tense
6.2.1. Past Perfect Tense
6.2.2. Past Progressive
6.2.3. Past Emphatic
6.3. Future Tense
6.3.1. Future Perfect Tense
6.3.2. Future Perfect Progressive
6.3.3. Future Emphatic
7. Verb
7.1. Help tell where the split between subject and prediction is as they being the predicate section of a sentence
7.1.1. Action Verbs
7.1.1.1. Transitive Verbs
7.1.1.2. Intransitive Verbs
7.1.2. Active Voice
7.1.3. Passive Voice
7.1.4. Tenses
7.1.4.1. Present
7.1.4.2. Past
7.1.4.3. Future
8. Preposition
8.1. against, at ,for , in, to , on , by
8.2. Prepositional Phrase : begins with preposition function as a adverb or adjective
8.2.1. Tell where
8.2.2. Tell What
8.2.3. With a N
9. Subject Complements
9.1. Identifies or describe a S
10. Conjunction : Connect sentence part and are frequently used to make two sentence become one.
10.1. Subordinating join phrase of equal weight
10.2. Correlative
10.3. Coordination
11. Adjective
11.1. Modify N
12. Pronoun : used to avoid wordy repetition, and increase flow.
12.1. 1st Person
12.2. 2nd Person
12.3. 3rd Person
12.4. Which- used to refer back
13. Adverb: A trick to locating adverbs is to look for the word ending in "-ly"
13.1. Tell Where place
13.2. Tell Why
13.3. Tell How
13.4. Tell How often
14. Interjection