Geometric Shapes
by A Venglarcik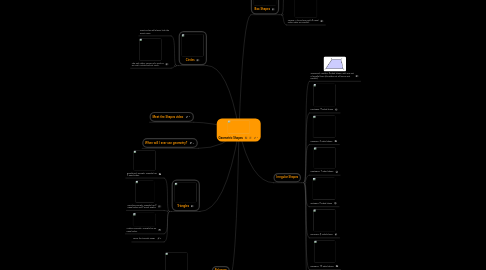 1. Polygons
1.1. Polygons: All of these shapes are polygons. A polygon is a shape made of lines that could be colored in (all the lines meet and it has a "middle").
1.2. Learn the polygon song!
2. Box Shapes
2.1. Rectangle: Another box shape, with two sets of equal sides. Equal sides are opposite each other. The sides are parallel to each other.
2.2. Square: A box shape with 4 equal sides; sides are parallel.
3. Triangles
3.1. Equilateral Triangle- Triangle has 3 equal sides.
3.2. Isoceles Triangle- Triangle has 2 equal sides and 2 equal angles.
3.3. Scalene Triangle- Triangle has no equal sides.
3.4. Learn the triangle song!
4. Circles
4.1. Most circles will always look the exact same.
4.2. The only other version of a circle is an oval; a stretched out circle.
5. Irregular Shapes
5.1. Trapezoid: Another 4 sided shape, with one set of parallel lines (the other set of lines is not parallel)
5.2. Pentagon- 5 sided shape
5.3. Hexagon: 6 sided shape
5.4. Heptagon: 7 sided shape
5.5. Octagon: 8 sided shape
5.6. Nonagon: 9 sided shape
5.7. Decagon: 10 sided shape
5.8. Dodecagon: 12 sided shape
6. Meet the Shapes video
7. When will I ever use geometry?