Home Maintenance and Cleaning Checklist For Every Melbourne Homeowner
by Joanna Johnson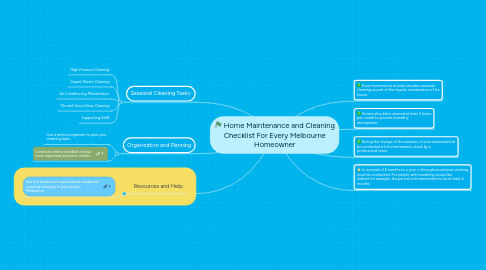 1. Seasonal Cleaning Tasks:
1.1. High Pressure Cleaning
1.2. Carpet Steam Cleaning
1.3. Air Conditioning Maintenance
1.4. Tile and Grout Deep Cleaning
1.5. Supporting Staff
2. In a period of 6 months to a year, a throughout exhaust cleaning must be conducted. For people with breathing issues like asthma for example, the period is recommended to be at least 4 months.
3. Every homeowner should consider seasonal cleaning as part of the regular maintenance of his house.
4. Organization and Planning
4.1. Use a printed organizer to plan your cleaning tasks.
4.2. Create an online checklist of your most important domestic chores.
5. Homes should be cleaned at least 2 times per month to provide a healthy atmosphere.
6. During the change of the seasons, it is recommended to be conducted a full maintenance check by a professional team.
7. Resources and Help:
7.1. Use the services of a specialized residential cleaning company in your area in Melbourne.