PLC journey
by
Paul Maas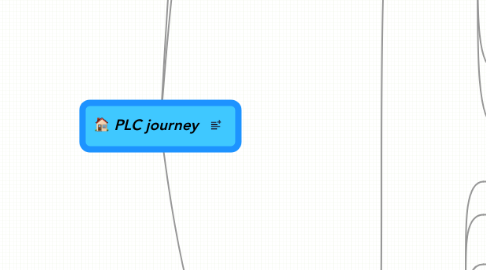 0.0
stars -
0
reviews range from
0
to
5
PLC journey
This is just a demo map that you can delete right away, if you feel like it...
Phases to achieve
Identify what to use
PLC, the actual model, cables, input and output?
Measure equipment, what must I use that is cost effective
What software
What to watch out for, say software is good/ bad, support is good/ bad, TCO
What does preferred solutions cost
Hardware price
Labour
Implement a basic solution
measure temperature in rooms
measure water pressure
log this
graph it
My objectives
Able to implement basic PLC sollution
Measure the following
Temperatures
Pressure
Humidity
Current
Flow in pipe
Turn switches on and off
Communication
Network the device on TCP/IP network
GSM modem access
Provide some GUI
Equipment must be cost effective (Africa)
My progress
what PLC
Where to buy
Based on forums etc, Siemens, I think it is too expensive if used in Africa?, Omron, Mitsubushi, Allen Bradley, I think I should use this, What should be first PLC?, LS Industrial Systems, no POP in UK, are they any good?, ezautomation, Cheap PLCS it seems, http://www.ezautomation.co.uk/products/ezplc.php, www.Lamonde.com, DL, Confirm his selection below, http://www.plctalk.net/qanda/showthread.php?t=3901
All the PLCs, http://www.plcs.net/chapters/links.htm
Emulators, seem you should ensure PLC have emulators, I see this, http://sites.google.com/site/abdullahabra//home/theteck-com/plc
Probes
Where to buy these at good prices
www.carelusa.com
www.dixell.com, AMM say I should use, not freely in UK
www.honeywell.com
www.bannerengineering.com, Expensive
HomeAutomation, http://www.ibuttonlink.com/sensors.aspx, make yellow stuff reasonable, to buy in UK see below, http://www.homechip.com/catalog/index.php?cPath=22
Learn here
http://www.plcs.net/contents.shtml
http://www.machine-information-systems.com/index.html, very good a-z on how what and where
Forums to use
http://www.plctalk.net/qanda/showthread.php?t=3901, seems very good
http://www.edaboard.com/forum28-3.html
http://forums.mrplc.com/index.php?act=idx
http://plcmentor.com/PLCTrainingForum/tabid/58/Default.aspx, good tutor
http://www.control.com/thread/1026147544, tell you where to buy
http://www.plcprogrammers.co.uk/ [Allan, Guru], seems good person to ask, 2010.11.10, pls email, Recommends
Advice
Arno
Rean, http://www.anadigi.co.za/products.php?path=1/LS%20Industrial%20Systems/SCADA/catalogs
Online stores I found so far
http://uk.rs-online.com/web/, seems best so far
good old eBay
www.AutomationDirect.com, credit, (http://www.control.com/thread/1026147544)
http://www.audon.co.uk/index.html, credit, http://www.plctalk.net
http://www.omega.co.uk, seems good UK shop, pricey maybe?
http://www.sensorsone.co.uk/, no online buying
http://www.bb-europe.com/products.asp, looks like good company, stuff high in price
http://www.audon.co.uk/it_sys.html, sell TCP/ USB monitors