Blog Post "Mind Mapping in Education"
by
Raphaela Brandner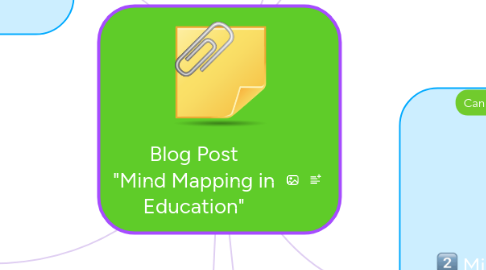 5.0
stars -
31
reviews range from
0
to
5
Blog Post "Mind Mapping in Education"
This is a sample map that shows how a blog post can be brainstormed and outlined inside a mind map. Step 1: Brainstorming: Note down everything you want to say in your article without censoring your ideas Step 2: Structure: Bring order into the chaos; delete bad ideas; create an outline Step 3: Expand: Add more notes and details to your ideas; Step 4: Export: Export the mind map as a Word document and complete the writing process there. You can also export directly to Google Drive.
Areas of Education
Primary education
Secondary education
Higher education
Introduction
The challenges...
that teachers are faced with, Presenting complex information, Engaging students, Communicating and collaborating with students, Sharing data and files with students, Planning lessons and big projects
that students are faced with, Comprehending and memorizing information, Collaborating with colleagues, Being creative, Research and writing, Structuring information and files
Uses
Teachers
Lesson plans
Lesson reviews
Presentations and expanations
Quizzes and questionaires
Class projects
Students
Memorizing
Reading comprehension
Book reports and other presentations
Collecting formulas
Writing scientific papers
Group projects, Collaborative brainstormings, Problem solving
Brainstorming prior to an essay
Citations
"The effectiveness of using mind mapping skills in enhancing secondary one and secondary four students' writing in a CMI school" by Chan Wai-Ling
"Teaching spelling skills with a mind mapping software" by Reima Al-Jarf
"Effectiveness of mind mapping in educational psychology" by Dr. Mrs. Indumati Bharambe
Other Sources
How to integrate mind mapping into your classroom
iPad classes
Use a projector
Share your mind maps with students
Embed your mind maps
Mind Mapping
What is mind mapping?
How and why does it work?
How our brain works
Pictures, icons, colors
Structure & hierarchy
The bigger picture
Benefits of mind mapping
What studies show
Who can mind map
Students, Ages, Different learning types
Teachers