The Osmosis
by
Cyrille Oswald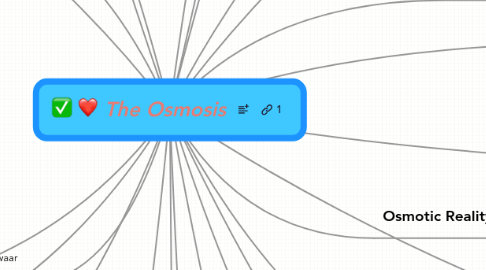 0.0
stars -
0
reviews range from
0
to
5
epic neo archaic boundary dissolving collective art
ideeen?
New node
Initiatives are made under de Tutelage of the true Osmotic Reality (TOR)
The Osmosis Reality Productions
the ORP is the production office of the Osmosis.
festival
magazine
CD's
DVD's
boeken
seminars
osmotic retreat
osmotic events
merchandise
checken via bv Gong waar gespeeld kan worden
brainstorm
DVD project
filmcrew vinden
Identiteit/ideologie
Integer ludiek neo-archaisch boundary dissolving transcenderend theatraal universeel/holistisch organisch positief, optimistisch kritisch intelligent  
uitwerken in de blogs
Check out http://www.mindmeister.com/services/tools/geistesblitz_widgets
Use toolbar to add ideas
Get started!
Key shortcuts
Drag & Drop and double-click canvas
Find out more?
Welcome again!
My Geistesblitzes
Podia
theaters
openluchtpodia
festivals
lokaties
Symposia, seminars
internet
connecties
musea
muziek lab brabant
office
redactie blog
research venues
gigs regelen
website
redactie internet platforms
managing mail & agenda (via google)
info@theosmosis.com loopt via gmail en heeft dus ook zijn eigen agenda en docs.
subsidie
media
financiele administratie
performance
muziek
extreem multi culti (zawinul) en afwisselend balans acoustische en electro zo vrij mogelijk, +vocals      
concept
podium
het podium als instrument ( voor de tap obviously, misschien meer?)  
dans
visueel
video
publieksparticipatie
totaal improvisatie
impro naar aanleiding van een beeld, schilderij, gebouw, gedicht, nieuwsbericht, dans, geste, lichaamstaal, tarot kaart, i ching, verhaal, formule, lied, ritueel, vorm, sound, melodie, groove, etc  
educatie
ideeenbus
repetitie
data plannen
lokatie
opname plannen
format
Neo-archaische multi beleving
MusicDanceVideo collective Art
vier musici op verschillende instrumenten, tapdance, en overige theatrale ideeen.
boundary dissolving statement
radicaal oprecht
New node
doelstellingen
toffe performances doen waarin alle deelnemers hun ei kwijt kunnen en een gezamenlijke kick vinden, en we het publiek in die beleving trekken. shows doen op kikke lokaties, voor leuk publiek, en waar we dan ook nog wat mee verdienen. ultiem doel: een transformerende statement neerzetten
januari
februari
Zomer
aug2010-aug 2011
kikke toernee doen  
over 3 jaar
de mensheid getransformeerd schaapjes op het droge  
TO DO!!
kijken wat Herfita wil doen
bijvoorbeeld: myspace, hyves, blog redactie, symposia zoeken waar we wel eens zouden kunnen spelen.
lijst Podia en contacten
audio pimpen
3 februari
plannen Jordanie
gigs fixen
logo
online conference beleggen
mail naar osmoten
Beste Osmoten, We hebben wat plannen uitgewerkt voor de komende periode, hierbij een update.   Jordanie Volgende week heeft Cyrille een gesprek met Heleen van der Beek om de mogelijkheden te bespreken, dit plan wordt dus waarschrijnlijk gekristalliseerd. Promotiemateriaal voor te boeken tours: Het lijkt ons het beste om op korte termijn (maart) een preview te maken van de nieuwe show. Hiervoor moet een theaterzaal gevonden worden en natuurlijk een regisseur/cameraman. We moeten nog beslissen wie de vj wordt (Martijn Grootendorst?). De nieuwe show heeft voorlopig als werktitel "Cymatics" en als ondertitel "Sound Matters". Een definitie van Cymatics: the study of visible sound and vibration. Een korte toelichting: geluid levert geometrische vormen op in materie, en deze vormen duiken overal in de natuur op. Men kan dus zeggen dat geluid aan de basis staat van elementen uit de fysieke wereld. De geometrische figuren (cymatics) leveren ook symbolen op vormen dus een visuele taal. Deze symboliek is weer terug te vinden in alle culturen. Kortom, geluid communiceert dus niet alleen auditief, maar ook visueel. We overwegen ook een samenwerking met filmregisseur Joost Rekman, die prachtig beeldmateriaal heeft.   Hoe zit iedereen in maart wat betreft de opnameplannen van de preview?                
Osmotic Reality
Initiatives are made under de Tutelage of the Osmotic Reality.   What is the Osmotic Reality? This is a reality where spontaneous exchange is the key.  This exchange takes place as soon as someone is 'in the moment'. We stand for a reappraisal of the love of the Now. When firmly rooted in this consciousness, we experience what was previously seen as adversity, as just a level of reality we once chose for. The Now liberates us from all preconceived ideas about our past and our future. It is the true reality, the intersection of time and space. When one makes no plans, but limits himself to observe, all processes are revealed with great clarity. One knows, that the ones who claim they know, are often living in a reality devoid of fantasy. The creative mind knows that everything is possible, that we are the masters of our destiny, and that all else is painful posponement, at least for the ones who claim otherwise. They who propose solutions to problems without refererring to a cosmic truth, such as the love of the Now, are the false prophets of all times. But even more important, that which denies the importance of the Now within us, is the real source of all confusion. So we have within us the power to change everything, by changing the way we see everything, by living in the Now. And that is how conditions are set for spontaneous exchange, in Art and in Life. Then comes the Osmotic Reality.    
productions
Menus site:
intro text Osmotic productions
In the third millenium artists are entering a new era. The music industry as we new it no longers exists, and the independent artist has to find new ways to come across. The Osmosis is a collective art community that joined forces to create a new platform for independent expression in modern times.  
New node