How To Make Content More Engaging
by
George Kao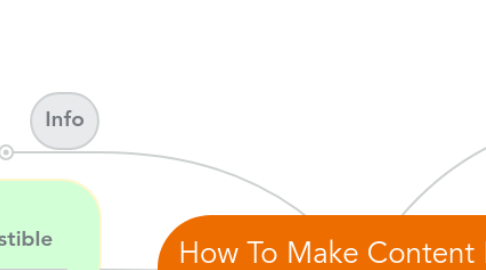 5.0
stars -
133
reviews range from
0
to
5
Info
Version: March 2015 For major updates, join the email list at: http://GeorgeKao.com
Check out George Kao's other Mindmaps: http://www.mindmeister.com/users/channel/georgekao
To watch a video lecture about this mindmap, click here: https://www.youtube.com/watch?v=r9_ZzbOeVuI
Feel free to share this mindmap freely. Here's the link to give out: http://www.mindmeister.com/388449576
Digestible
Ease into it
Shorter!
Easier on the eyes
Web-content best practices
Simpler language
Pause regularly
Proofread
Why?
Myth to Truth
Categorize
Step by Step
Different modes
Includes some kind of practical exercise(s)
Analogies & Metaphors
Stories
Mnemonics
Resources for better teaching
Be always pruning!
Useful
Have you asked your ideal audience what questions they most want you to answer / topics they most want you to talk about?
Or what questions *should* they be asking that they don't know to ask yet?
It can be very useful to analyze your niche mates' content
In fact, sometimes partner with your niche mates to create great content!
Occasionally creating & sharing survey data (anonymously) can create very engaging content
Watch for clues
In short, aim to do one or more of the following in your content for your ideal audience:
Share why what you're sharing is important
Give Examples
Whenever appropriate, include practical steps.
Quotes
Share trends
Relevant statistics and numbers
Present important viewpoints besides your own beliefs
Connect the ideas to other fields of thought / other areas of life
Definitions and distinctions
Explain why alternative solutions (to what you are educating them on) haven't worked / worked as well
Ask Questions
Useful content isn't just what You create, but can be what you *curate*
Entertaining
Is it authentic?
Are you using images?
Is it simple/easy?
Is it numbered?
Is it authentic?
Is it emotional?
Is it dramatic?
Is it controversial?
Is it vulnerable?
Is it funny?
Is there social proof?
Headlines
Bring in some pop culture or news?
Notice what you enjoy!
Notice what is popular
Values -- do you know your ideal audience's values? Are you speaking to them?
Adventure
Ask Questions, preferably simple ones
Good grammar & spelling
For in-depth content, make it clear whether it can be, and how to, share it forward!
Know the engagement technique for the specific medium
Ethics: always let Honestly trump Attractiveness
Tell personal stories
Write as if to a friend or a colleague
How to use this mindmap
Why and What
How