Martin Luther King Jr. January 15, 1929-April 4, 1968
by Gladys 2nd Period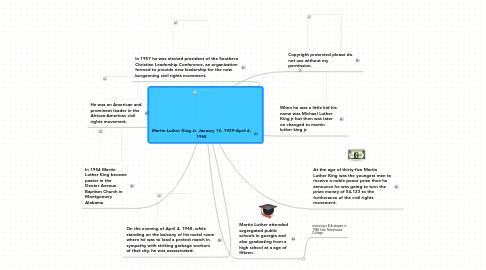 1. When he was a little kid his name was Michael Luther King jr but then was later on changed to martin luther king jr.
2. He was an American and prominent leader in the African-American civil rights movement.
3. Martin Luther attended segregated public schools in georgia and also graduating from a high school at a age of fifteen.
3.1. receiving a B.A degree in 1948 from Morehouse College.
4. In 1954 Martin Luther King became pastor in the Dexter Avenue Baptism Church in Montgomery Alabama
5. In 1957 he was elected president of the Southern Christian Leadership Conference, an organization formed to provide new leadership for the now burgeoning civil rights movement.
6. On the evening of April 4, 1968, while standing on the balcony of his motel room where he was to lead a protest march in sympathy with striking garbage workers of that city, he was assassinated.
7. At the age of thirty-five Martin Luther King was the youngest men to receive a noble peace prize then he announce he was going to turn the prize money of 54,123 to the furtherance of the civil rights movement.
8. Copyright protected please do not use without my permission.