MSIM Beardraiser
by
E Bell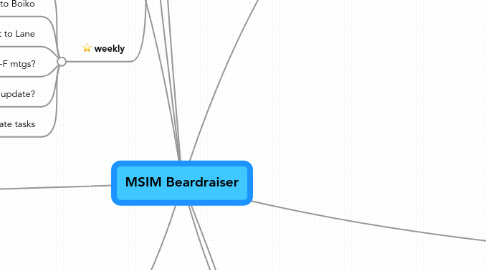 0.0
stars - reviews range from
0
to
5
MSIM Beardraiser
Resources
Support
Shreyas
Mayuko, system design, data analysis
Kay, DB help
Nick M, 2 hours
Jasper et al., Q&AIMS consult
Mike H, AIMS site/online resources
Joel L - MSIM alum, Advancement
Advisory
Fundraising, Shimon, fundraising expertise, fundraising research pointers, Cortney L
Design, Josh W, Rachel E
Audience
General, Stef
Waiting
BAL - fundraising
Skorupka - eWay
To Contact
RVL, social participation feedback/brainstorming
Colin Mc - Advancement, DB
Scott Barker - ...?
Andy Everett - 1st Exec, WADOT
Jeff Froh - 1st Exec?
K Cushman
map contact per cohort
Questions
[particular question], [person to ask, and when]
Lane, MSIM alumni numbers, past giving rates
Timeline
http://beardraiser.org/gantt.png
January
Vision, Create an endowed scholarship to benefit future MSIM students and connect and strengthen the MSIM alumni community., Phase I "Iteratively create a website to manage an online fundraising campaign, incorporating social/participatory elements and multi-channel messaging, by March.", Phase II "Manage a fundraising campain targeting MSIM alumni to raise money for an MSIM-specific endowed scholarship by June."
Initial steps, what I want to do, required tools, what is available to me, support, form advisory board, consult advisors, New node, what I need to build myself
Analysis, strategies, fundraising, networking, information stewardship, available resources, map out social network by cohort, alumni numbers from Lane, metrics, what to measure, defining success, baseline, risks, tabulate impact/probability, technical requirements, alumni relations, UW/iSchool politics, access to data, networking ability, team dynamics, determine scope, plan out WBS, required time
Prototyping
February
barebones site
donation functionality
metrics in place
feedback mechanisms
March-April
relatively polished site
kick off campaign
conduct fundraising
May
wrap up fundraising
June
announce results
Commencement
shave beard (?)
Deliverables
Capstone class
WBS - Jan 19
Gantt chart - Jan 30
Research paper - Feb 20, UW Advancement, iSchool Advancement, UWKC, online giving, RVL
Project proposal - Mar 13
...
Poster - June 3
Misc brainstorming
beard auction
webpage - wordpress/joomla/etc?
parallel messages
MSIM theme
beard theme
multiple channels
blog, guest writer
FB-Advancement tie-in?
twitter stuff (also => FB)
"Give it a ponder"
Moo cards?
networking
in person
online
contact info of friends
email to forward
"that person who knew everyone" social hub mining
The Site
The Pitch
0912 Finance feasibility deck
1001 MSIM recruiting deck, http://beardraiser.org
10?? pre-site description deck
10?? rough placeholder, photoshop image map?, descriptions of what's to come, timeline?, Donation button
Functionality
backup methods
Flow
processes
screens
Links and feeds
from ericbell.org
from AIMS
Twitter #beardraiser
Flickr tags, beard, msim, beardraiser, scholarship
MSIM theme
MSIM history timeline
scholarship efforts history
MSIM picture feed (flickr tags)
Donation status tweets
MSIM stories/blog (contributed by donors)
Donate to vote on name (proportional weight)
Beard parallel theme
Beard timeline
Beard picture feed
Beard update tweets
Beard stories/blog (contributed by guests)
Donate to vote on outcome (proportional voice)
Message tools
idea submission
idea commenting
vote allocation, tie in with donation data
vote tracking
Story tool
story submission
story metadata
FB tie-in
per Joel's suggestions
Campaign tracking/status
tie in with donation data
Timeline mashup
dates, events, pictures, stories
pictures => Flickr
Feedback mechanism
FAQ, solicit/brainstorm questions, write answers
plug-in feedback tool?
Donation functionality
UW Advancement, Colin
Maintenance
short updates - status/tweets/etc
longer narratives - blog, confession: dislike of fundraising, how this whole thing started
y'know, iteration
Google sitemap
The Fundraising
Terms
scholarship distribution terms, purpose, tuition, travel, etc
contingencies if inadequate funds
step-up language for higher levels
continued giving option
openness/sharing of info
temporary name "Eric's Beard Memorial MSIM Scholarship"
Groups
MSIM alumni - primary group
iSchool faculty - mention
MSIM advisory board - mention
students - mention, enlist
anyone else? - "and hey, if you're just a fan of beards (or of shaving them off), come on in!"
matching funds?
Strategy
donate and network
network instead of donate?
student-driven effort, non-official
Incentives
Tactics
leader board
"the last person donated X amt"
see research
email disclaimer (and account?)
Next!
xml
Prototype, sketch screens, see what I can pull together with existing tools - play around
capstone
harmonize mindmap w/Gantt
start executin'!
research paper, New node
general
placeholder page
short desc -> Lane
MSIM alum info from Joel
boilerplate terms from Lane
kickoff on FB, Twitter
links
incorporate V-Week, call for pictures
weekly
mtg w/Crandall
progress to Boiko
report to Lane
arrange W-F mtgs?
site update?
review & update tasks
Thoughts & Suggestions welcome!