Lessons from a school garden
by Kyle Murphy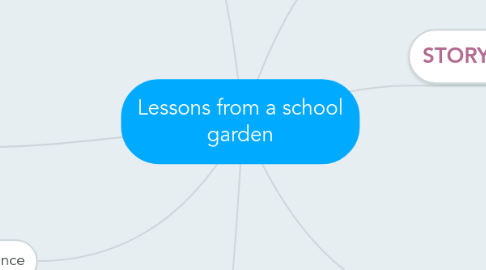 1. Informative speech
1.1. What benefits does a school garden provide?
1.2. Who benefits from the garden?
1.3. What can the students learn from having access to a school garden?
1.4. What are some of the steps to starting a student-run garden?
2. Living Laboratory
2.1. Explain how the garden functions as a living lab
2.2. A slide that highlights some possible 'living lab' experiments
2.3. teamwork and group participation = success
3. HEALTHY EATING
3.1. Nutrition lessons through the garden
3.2. introducing the students to the idea of farming
3.3. patience and its rewards
4. Presentation/Structure
4.1. Narration over slides/ pictures
4.2. Possibly use Prezi
4.3. Animoto
4.4. Fair Use picutures
4.5. Personal farm pictures
4.5.1. CSA pictures
4.5.1.1. pictures of nutritional foods/meala
4.6. upbeat, mild electronica music
4.6.1. Possibly acoustic guitar
5. Involving the CSA
5.1. Introducing the concept of CSA
5.2. CSA as community leaders/volunteers
5.3. Teaching children the imp. of agriculture in our society
6. Purpose and Adience
6.1. Audience: educators, administration, parents
6.2. Purpose: To stress the importance and benefits of a community garden on school grounds.
7. STORYLINE
7.1. 1. An overview of the community/school garden
7.2. 2. What a school garden brings to the table
7.3. 3. How to plan your school garden
7.4. 4. The CSA, ally of the neighborhood farm
7.5. 5. Getting started, a community initiative
7.5.1. Bringing family/faculty together to get everyone involved.