ISACA® CISM® study guide mind map
by
Mirosław Dąbrowski, COO, Agile&IT Coach, Trainer, Consultant, Product Owner, Entrepreneur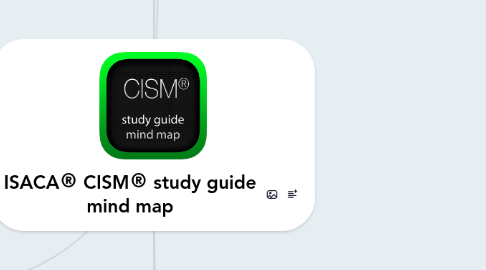 5.0
stars -
43
reviews range from
0
to
5
ISACA® CISM® study guide mind map
ISACA® is a registered trademark of Information Systems Audit and Control Association. CISA®, Certified Information Systems Auditor®, CISM®, CGEIT®, Certified in the Governance of Enterprise IT/CGEIT® (and design)®, COBIT® are registered trademarks of ISACA®. CRISC™, Certified in Risk and Information Systems Control™, Certified Information Security Manager™, Risk IT™, Val IT™ are trademarks of ISACA®. Trademarks are properties of the holders, who are not affiliated with mind map author.
The job profile of the CISM® (Certified Information Security Manager) published at the autumn of 2002 is a reaction to the continuously changing market requirements and is addressed to individuals who are responsible for managing information security.
Covers
Designation
The CISM® job profile was published at the end of 2002 and was revised for a second time for the 2012 examination.
Official Recommended exam study materials
Glossary
Development Guides
ISACA® CISM® Review Manual 2015
ISACA® CISM® Review Questions, Answers & Explanations Manual 2014
ISACA® CISM® Review Questions, Answers & Explanations Manual 2015 Supplement
ISACA® CISM® Practice Question Database
CISM® Official website
http://www.isaca.org/Certification/CISM-Certified-Information-Security-Manager/Pages/default.aspx
Basic security related definitions (from ISACA® CISM® perspective)
Access
Architecture
Attacks
Auditability
Authentication
Authorization
Availability
Business Model for Information Security (BMIS)
Business dependency analysis
Business impact analysis
Confidentiality
Countermeasures
Criticality
Data classification
Enterprise Architecture
Exposures
Gap analysis
Governance
Identification
Impact
Integrity
Layered security
Management
Nonrepudiation
Risk / Residual risk
Security
Security domains
Security metrics
Sensitivity
Standards
Strategy
Threats
Trust models
Vulnerabilities
Domain 1: Information Security (InfoSec) Governance
Domain 1 - CISM® Exam Relevance
Security is here to support the interests and needs of the organization – not just the desires of security
Security is always a balance between cost and benefit; security and productivity
Corporate Governance
Goal of Information Security
Business Case Development
Security Integration
Information Security Governance
Information Security Architecture
Information Security Frameworks
Information Security Program
Information Security Strategy
Effective Security Metrics
The Maturity of the Security Program Using CMM
Roles and Responsibilities
Reporting and Compliance
Ethics
Domain 2: Information Risk Management and Compliance
Risk Management
Training, Education and Awareness
Domain 3: Information Security (InfoSec) Program Development and Management
Domain 4: Information Security (InfoSec) Incident Management
Overview of the CISM® certification
About the CISM® exam
Interactive Glossary
This freeware, non-commercial mind map (aligned with the newest version of CISM® exam) was carefully hand crafted with passion and love for learning and constant improvement as well for promotion the CISM® qualification and as a learning tool for candidates wanting to gain CISM® qualification. (please share and give feedback - your feedback and comments are my main motivation for further elaboration. THX!)