SCOUT FINCH
by Paddy Quay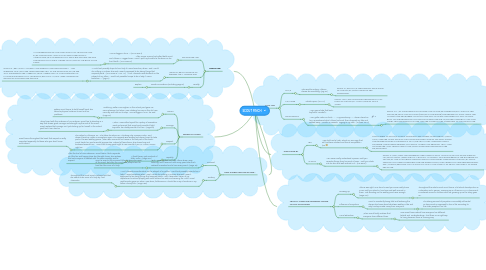 1. BELIEFS & VALUES
1.1. Honour
1.1.1. "Catching Walter Cunningham in the school yard gave me some pleasure, but when i was rubbing his nose in the dirt Jem came by and told me to stop. 'You're bigger'n he is,' he said. (Page 24)
1.1.1.1. Before Scout learns to hold herself back, she takes to physical violence to sort out her problems
1.2. Courage
1.2.1. "When I committed myself to a policy of cowardice. Word got around that Scout Finch wouldn't fight anymore, her daddy wouldn't let her." (Page 90)
1.2.1.1. When faced with the rudeness of Mrs Dubose, Scout has to develop in a way that shows great courage and strength. By the end of the novel, Scout realizes that courage isn't just sticking up for herself in the school yard, but it can also be
1.3. Respect
1.3.1. She refers to Atticus as 'sir' , she takes his advice on "climbing into a person's skin" and doesn't beat up Walter Cunningham again. She respects Boo Radley and doesn't want to take part in the Boo Radley games. When Boo comes to her house in the last part of the book, Scout treats him as she would anyone else. Instead of fearinf Boo, she shows love and kindness towards him~ "You'd like to say good night to Jem wouldn't you Mr Arthur? Come right in!"
1.3.1.1. Scout learns throughout the book that respect is really important especially to those who you don't know much about.
1.4. Equality
1.4.1. "I think there's just one kind of folks. Folks." (Page 247)
1.4.1.1. After the trial of Tom Robinson, Scout learns that Maycomb isn't the fair and happy place she thought it was. She realizes that not everyone is treated with the same equality and/or respect.
2. ACTS LIKE
2.1. NAIVE
2.1.1. "The world's ending, Atticus! Please do something" (pg 64)
2.1.1.1. SCOUT IS VERY NAIVE THROUGHOUT SOME PARTS OF THE NOVEL WHICH PORTRAYS HER INNOCENCE.
2.2. IMMATURE
2.2.1. "whats rape?" (CH 14)
2.2.1.1. SCOUT ACTS VERY CHILDLIKE THROUGHOUT MANY PARTS OF THE NOVEL. AN EXAMPLE OF THIS IS WHEN
2.3. COURAGEOUS
2.3.1. '"You gonna take that back, boy[Cecil Jacobs]?" '"You gotta make me first!" .... "My parents say...." I drew a bead on him, remembered what Atticus had said, then dropped my fists and walked away, "Scout's a coward!" ringing in my ears.' (PAGES 76-77)
2.3.1.1. SCOUT IS A VEY COURAGEOUS CHARACTER AND HAS NEVER TURNED DOWN A FIGHT IN HER LIFE HOWEVER IN THIS SITUATION (SHOWN IN THE QUOTE) SHE DECIDES TO THINK ABOUT HER ACTIONS AND REMEMBERS ATTICUS SAYING NOT TO LISTEN AND ESPECIALLY NOT TO FIGHT BACK. SO SHE DECIDES NOT TO FIGHT BACK BECAUSE SHE LOVES HER FATHER BUT ALSO TAKE THE BY LETTING PEOPLE CALL HER AND HER FATHER NAMES IN REGARDS TO THE COURT CASE.
3. MOTIVATED BY
3.1. JEM
3.1.1. "Jem told me to hush, which is a sure sign that Dill had been studied and found acceptable." (CH 8)
3.1.1.1. SCOUT SEEKS TO FOLLOW IN JEMS FOOTSTEPS, SHE ASPIRES TO BE LIKE HIM WHICH MOTIVATES HER TO DO SOME OF THE THINGS SHE DOES. ONE OF THE FIRST THINGS THE READER NOTICES IN THE BOOK IS THAT WHE JEM MAKES A DECISION ABOUT SOMEONE WORTH BEING FRIENDS WITH SCOUT ACCEPTS HIS DECISION. JEAM ALSO TEACHES HER MANY LESSON ABOUT LIFE WHICH GUIDE HER THROUGHOUT HER DEVELOPMENT.
3.2. ATTICUS
3.2.1. "You never really understand a person until you consider things from his point of view... Until you climb into his skin and walk around in it." (PG 85-87)
3.2.1.1. SCOUT IS MOTIVATED AND INSPIRED BY HER FATHER ATTICUS. ATTICUS GIVES THIS SIMPLE PIECE OF ADVICE TO SCOUT, WHEN SHE HAS A BAD DAY AT SCHOOL. THIS QUOTE BECOMS THE BACKBONE OF TEH NOVEL AND ITS SYMBOLIC SIGNIFICANCE PLAYS KEY ROLES THROUGHOUT THE NOVEL. SCOUT TRIES NOT TO JUDGE OTHERS BECAUSE SHE DOESNT KNOW THEM ESPECIALLY HER NEIGHBOUR BOO. SHE VALUES EVERYTHING THAT ATTICUS HAS TO SAY AND TAKES IT TO HEART AND USES IT TO GUIDE HER IN LIFE.
4. HOW OTHERS SEE HIM OR HER...
4.1. Innocent
4.1.1. "But I never figured out how Atticus knew i was listening, and it was not until many years later that I realized he wanted me to hear every word" (Page 96)
4.1.1.1. Scout is seen as the innocent little girl she is for most of the novel, but after the court case people tend to treat her like more of a lady.
4.2. Tomboy
4.2.1. "Aunt Alexandra was fanatical on the subject of my attire. I could not possibly hope to be a lady if I wore breeches; when I said I could do nothing in a dress, she said I wasn't supposed to be doing things that required pants. Aunt Alexandra's vision of my deportment involved playing with small stoves, tea sets, and wearing the Add-A-Pearl necklace she gave me when I was born; furthermore, I should be a ray of sunshine in my father's lonely life." (Page 108)
4.2.1.1. Throughout the novel Scout is always told that she needs to be more of a lady by Aunt Alexandra.
5. LOOKS LIKE
5.1. BIG FOR HER AGE
5.1.1. "You're bigger'n he is." (CHAPTER 3) After cousin Francis had called both Scout and Atticus a "nigger-lover," Scout "split my knuckle to the bone on his front teeth." (CHAPTER 9)
5.1.1.1. AT THE BEGINNING OF THE STORY SCOUT IS 6 YEARS OLD AND EVEN THOUGH NOT MUCH IS SAID ABOUT HER PHYSICAL APPEARANCE WE CAN DEDUCE THAT SHE IS BIG FOR HER AGE FOR THE REASON THAT SHE IS LARGER THAN MOST OF THE BOYS IN THE STORY.
5.2. WEARS OVERALLS INSTEAD OF DRESSES LIKE A 'PROPER' GIRL
5.2.1. "I could not possibly hope to be a lady if I wore breeches; when I said I could do nothing in a dress, she said I wasn't supposed to be doing things that required pants." (CHAPTER 9 > PG. 74) "Aunt Alexandra was fanatical on the subject of my attire. I could not possible hoope to be a lady if I wore breeches...." (pg 81)
5.2.1.1. SCOUT IS VERY MUCH A TOMBOY AND DOESNT MIND GETTING DIRTY AND SPENDING TIME WITH HER 'HERO' BROTHER JEM. IN THE QUOTE SHOWN WE SEE THAT SHE DOESNT SEE A NEED TO WEAR A DRESS LIKE ALL THE OTHER GIRLS IN MAYCOMB SHE FEELS THAT WEARING OVERALLS IS A MUCH MORE APPROPRIATE OPTION OF CLOTHING FOR HER LIFE.
5.3. Quality
5.3.1. Quote or Evidence (Including page #)
5.3.1.1. Explain
6. TEXTUAL ISSUES OR CONCERNS LINKED TO THIS CHARACTER
6.1. Growing up
6.1.1. Atticus was right. One time he said you never really know a man until you stand in his shoes and walk around in them. Just standing on the Radley porch was enough. (Page 321)
6.1.1.1. Throughout the whole novel Scout learns a lot which develops her as a character and a person. Growing up is a theme in TKAM because it is centered around 2 children who are growing up as the story goes on.
6.2. Influence of Prejuduce
6.2.1. Scout is constantly being told and believing the stories she hears about what Boo Radley is like and why he stays inside, away from everyone.
6.2.1.1. The strong amount of prejudice is incredibly influential on how Scout is supposed to live in life according to the older people in her life.
6.3. Moral Education
6.3.1. When Scout finally realizes that everyone lives different lives.
6.3.1.1. How Scout learns about how everyone has different beliefs and understandings. That there is no right way to living however there is a wrong way.