Jem Finch
by Etienne Francois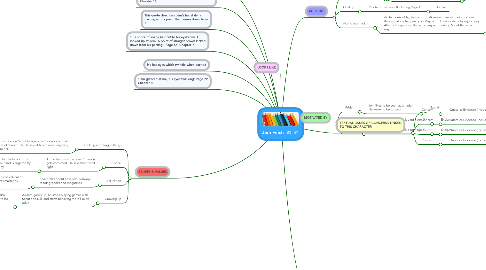 1. 'Jem glanced at me, his eyes twinking' Page 72 Chapter 8
2. He has eyes which twinkle when excited
3. This quote describes Jem's hairstyle, a parting with a point that comes down from it.
4. This quote shows that Jem has brown hair and eyes, an oval face and ears close to his head.
5. '... a shock of soapy hair fell to his eyebrows. I looked up at Jem. A point of straight brown kicked down from his parting.' Page 66, Chapter 7
6. 'Jem's soft brown hair and eyes, his oval face and snug-fitting ears were our mother's...' Page 156 Chapter 15
7. BELIEFS & VALUES
7.1. Looking after fragile things
7.1.1. Jem doesn't allow Scout to squash a 'roly-poly bug' at the start of chapter 25. He says it hasn't done anything to harm her.
7.1.1.1. This event shows that after the trial of Tom Robinson and seeing his unfair destruction, he wants to protect things that haven't done anything wrong
7.2. Justice
7.2.1. Jem is furious when Tom Robinson gets convicted. He says that it isn't right.
7.2.1.1. The fact that he understands that Tom Robinson was convicted because of his skin colour and is angered by it shows that he believes in equality.
7.3. Education
7.3.1. Scout talks about how Jem is always reading books and magazines
7.3.1.1. This shows that Jem values his education and is always trying to get smarter by reading.
7.4. Growing up
7.4.1. As Jem grows up, he stops playing games with Scout and Dill, and starts behaving more like an adult
7.4.1.1. This is linked to the theme of growing up which also affects Scout throughout the book. Jem is trying to be more like Atticus as he gets older
8. ACTS LIKE
8.1. Jem acting as a protector
8.1.1. Jem is Scout's brother, but acts as her playmate and protector
8.1.1.1. Explain
8.2. Quality
8.2.1. Quote or Evidence (Including Page #)
8.2.1.1. Explain
8.3. Acting as an adult
8.3.1. As Jem gets older, he starts to talk more often with adults about things that are happening in Maycomb. He also starts trying to copy Atticus by speaking the same way and treating Scout the same way.
8.3.1.1. Doing all of this shows that Jem is trying to become more of an adult as the book progresses.
9. MOTIVATED BY
9.1. Pride
9.1.1. Jem likes to be seen as an adult. He wants to be trusted
9.1.1.1. Explain
9.2. Emotion
9.2.1. Quote or Evidence (Including Page #)
9.2.1.1. Explain
9.3. Emotion
9.3.1. Quote or Evidence (Including Page #)
9.3.1.1. Explain
10. HOW OTHERS SEE HIM OR HER...
10.1. Quality
10.1.1. Scout constantly talks about Jem, and she often compares her growing up like to Jem's progression
10.1.1.1. How Scout sees Jem
10.2. Quality
10.2.1. Quote or Evidence (Including page #)
10.2.1.1. Explain
10.3. Quality
10.3.1. Quote or Evidence (Including page #)
10.3.1.1. Explain
11. LOOKS LIKE
12. TEXTUAL ISSUES OR CONCERNS LINKED TO THIS CHARACTER
12.1. Concern
12.1.1. Quote or Evidence (Including Page #)
12.1.1.1. Explain
12.2. Concern
12.2.1. Quote or Evidence (Including Page #)
12.2.1.1. Explain
12.3. Concern
12.3.1. Quote or Evidence (Including Page #)
12.3.1.1. Explain
12.4. Concern
12.4.1. Quote or Evidence (Including Page #)
12.4.1.1. Explain