Tangible Environmental Improvement
by
Scott Butner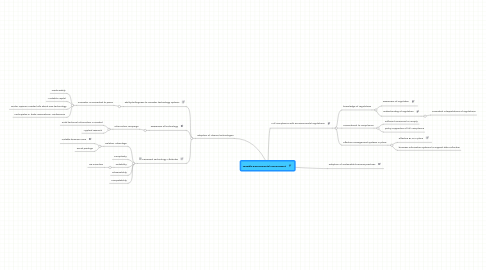 4.0
stars -
1
reviews range from
0
to
5
Tangible Environmental Improvement
By "tangible environmental improvement" we mean changes that result in improved environmental conditions -- reduced emissions, less waste, etc
adoption of cleaner technologies
ability/willingness to consider technology options
receptiveness to new technology is essential, but not sufficient.  What factors contribute to that receptiveness?  If it's essential, it should be ahead of awareness
Innovator is connected to peers, reads widely, Available capital, Sector Opinion Leader tells about new technology, Participates in trade associations, conferences
is awareness 10% of the key to adoption?  20%? Most important for influencine adoption of  preventive innovations, requiring a "campaign" of information. 
Information campaign, Solid technical information is created, Applied research
Evertett Rogers writes that this is responsible for 50 to 75% of the decision to adopt  Should this be behind awareness of technology?
Relative Advantage, suitable business case, Social prestige
Complexity
Trialability, Re-invention
Observability
Compatability
Full compliance with environnmental regulations
Is compliance a key factor?  Is it possible to have significant improvement WITHOUT being in compliance? Compliance should be the baseline, now, depending on your industry sector, compliance will translate into different requirements as some areas are only local, and others local, state, and even federal.
knowledge of regulations
awareness of regulation
understanding of regulation, consistent interpretations of regulations
commitment to compliance
sufficient resources to comply
policy supportive of full compliance
effective management systems in place
effective EMS in place
business information systems to support data collection
adoption of sustainable business practices
The word green does not do justice to the systems under development