COBIT®5 study guide mind map
by
Mirosław Dąbrowski, COO, Agile&IT Coach, Trainer, Consultant, Product Owner, Entrepreneur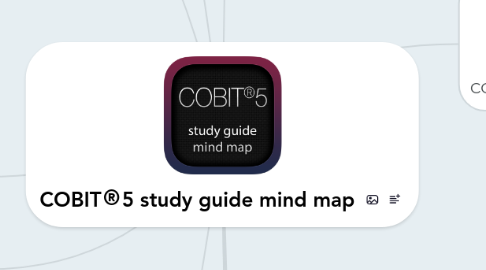 5.0
stars -
62
reviews range from
0
to
5
COBIT®5 study guide mind map
ISACA® is a registered trademark of Information Systems Audit and Control Association. COBIT® is a trademark of ISACA® registered in the United States and other countries. CISA®, Certified Information Systems Auditor®, CISM®, CGEIT®, Certified in the Governance of Enterprise IT/CGEIT® (and design)®, COBIT® are registered trademarks of ISACA®. CRISC™, Certified in Risk and Information Systems Control™, Certified Information Security Manager™, Risk IT™, Val IT™ are trademarks of ISACA®. Trademarks are properties of the holders, who are not affiliated with mind map author.
Official COBIT® 5 - Publications
COBIT® 5: A Business Framework for the Governance and Management of Enterprise IT
COBIT® 5 Enabler Guides
COBIT® 5 Professional Guides
COBIT® 5 Assessment Programme
COBIT® 5 - Principles (5)
1. Meeting stakeholder needs
2. Covering the enterprise end–to–end
3. Applying a single integrated framework
4. Enabling a holistic approach of 7 enterprise enables
5. Separate governance from management
COBIT® 5 - Enterprise Enablers (7)
These are the tangible and intangible elements that make something work - in this case, governance, and management of the enterprise over IT.
All enablers have a set of common dimensions that:
1. Principles, policies and frameworks
2. Processes
3. Organizational structures
4. Culture, ethics and behaviour
5. Information
6. Services, infrastructure and applications
7. People, skills and competencies
COBIT® 5 Processes (37) - Process Reference Model (PRM)
Structure of the PRM Template is based on the ISO 15504 process definitions and structure.
PRM is divided into 5 domains
COBIT® 5 Implementation Phases / Lifecycle (7)
Phase 1 - What Are the Drivers?
Phase 2 - Where are We Now?
Phase 3 - Where Do We Want to Be?
Phase 4 - What Needs to Be Done?
Phase 5 - How Do We Get There?
Phase 6 - Did We Get There?
Phase 7 - How Do We Keep Momentum?
COBIT® 5 - Process Capability Assessment Model (PAM)
Process capability models are used to measure the 'as-is' maturity of an enterprise's IT-related processes, to define a required 'to-be' state of maturity, and to determine the gap between them and how to improve the process to achieve the desired maturity level.
Serves as a base reference document for the performance of a capability assessment of an organisation's current IT processes against COBIT®.
The COBIT® Process Assessment Model (PAM) brings together two proven heavyweights in the IT arena, ISO and ISACA®.
The new Process Capability Model based on ISO 15504 replaces the Process Capability Maturity Model used in earlier COBIT® versions.
Process Capability Assessment differences COBIT 4.1 & 5.0
9 Process Attributes (based on ISO/IEC 15504-2)
Assessment Process Activities
The COBIT® Assessment Program includes:
Basic definitions
Maturity Assessment
Capability Assessment
Lead assessor
Assessor
COBIT®5 Exams
APMG
3rd party
Interactive COBIT® 5 Glossary
COBIT5 training road map
This freeware, non-commercial mind map (aligned with the newest version of COBIT®) was carefully hand crafted with passion and love for learning and constant improvement as well for promotion the standard and framework COBIT® and as a learning tool for candidates wanting to gain COBIT® qualification. (please share, like and give feedback - your feedback and comments are my main motivation for further elaboration. THX!)
The Evolution of COBIT 5
COBIT® 5 has clarified management level processes and integrated COBIT® 4.1, Val IT and Risk IT content into one process reference model
The framework integrates all knowledge previously dispersed over different ISACA Irameworks!' such as CO BIT, Val IT, Risk IT, and the Business Model for Information Security (BMIS) and the IT Assurance Framework (ITAF).
COBIT® 5 consolidates COBIT 4.1, Val IT and Risk IT into one framework, and has been updated to align with current best practices
COBIT® 5 processes now cover end-to-end business and IT activities
This provides for a more holistic and complete coverage of practices reflecting the pervasive enterprise wide nature of IT use
It makes the involvement, responsibilities and accountabilities of business stakeholders in the use of IT more explicit and transparent