Copy of Design
by
Nicole Olcese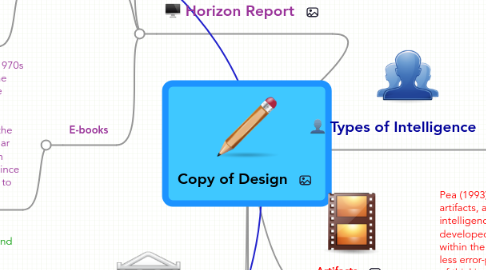 0.0
stars -
0
reviews range from
0
to
5
Copy of Design
Artifacts
Pea (1993) believes that intelligence is accomplished rather than possessed and that artifacts, as they are used in activity, provide resources for the guidance and growth of intelligence. For Pea, artifacts that have been developed historically or those that are developed naturally as part of an activity can enhance the activity by shaping what is possible within the activity. The artifacts offer certain affordances that can make the activity easier, less error-prone, and more efficient. They can also offer affordances that allow for new ways of thinking and doing things. Today's technological advances provide us with many new artifacts and affordances.
Implications for Education
A key question posed by Pea is this: "…what consequences should these observations about distributed intelligence have for the design and practice of education?" (1993, p. 72). As educators, this is something that we need to think very carefully about. The ways in which we do or do not design technology into the education of our students will have a major effect on their learning. Salomon et al. (as cited in Pea, 1993, pp. 75 – 76) discuss two types of cognitive effects on intelligence: effects of technology and effects with technology. We see the effects of technology when we use technology simply to make the same old tasks easier or more efficient (e.g. doing research on the internet rather than from a book). We see the effects with technology when opportunities are given to students in which they can use the technologies in new ways to expand their knowledge. Students continually experience the effects of doing things with technology in their everyday lives, but once they step foot on school grounds they are not allowed to use technology in those same ways. Why is this? What are educators afraid of? The difference between effects with and effects of technology is important to the pedagogical groundings of using technology in education.
Types of Intelligence
The distinction between distributed intelligence and solitary intelligence is crucial in Roy Pea's "Practices of distributed intelligence and designs for education" (1993). Solitary intelligence, defined as that which is in the minds of individuals and shown through internal transformation of mental functions, is the type of intelligence that is usually referred to and valued in education. Pea, however, makes the argument that we need to make a shift to understanding and valuing distributed intelligence, which he defines as intelligence that is developed when "resources in the world are used, or come together in use, to shape and direct possible activity emerging from desire" (p. 49). Those resources can be other people, technology, or artifacts of any kind. His key ideas and arguments are based in sociocultural theory, specifically mediation through artifacts and activity theory. In these theories, knowledge (intelligence) is seen as socially constructed, and therefore not solely situated in the mind of the individual.
Horizon Report
Mobile computing
Open content
E-books
Future Implications
Other technologies that can be designed into classrooms in the future include but are not limited to, simple augmented reality, gesture-based computing and visual data analysis. The options that are and will become available to educators provide opportunities for the use of technology in the classroom to transcend the solitary intelligence framework. By providing students with ways to create, interact with, and synthesize information, the classroom can become a place where knowledge is more socially constructed.