Professional Competencies Unit
by
Lynette Reid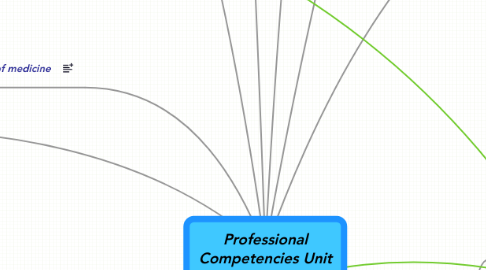 0.0
stars -
0
reviews range from
0
to
5
Professional Competencies Unit
Ethics
To be able to reflect on personal values and perspectives, and consider other perspectives, to inform day-to-day care and decision-making.
To know and fulfill core professional responsibilities pertaining to relationships of trust, patients' rights, and the public interest in health and healthcare.
To be able to come to reasoned choices, together with colleagues, patients, and their caregivers as appropriate, when faced with dilemmas or other situations of uncertainty.
To be honest, reliable, and trustworthy in professional practice.
History of medicine
Remains elective or?
a basic understanding that medicine has evolved over time, and will be able to explain in broad terms how this evolution has been shaped by changes in scientific knowledge and social factors.
be able to explain, in basic terms, how moral, philosophical, cultural, and religious belief systems have influenced medicine throughout history.
be able to use insights gained from reflecting on how medical knowledge has changed over time to critically evaluate current medical practices and controversies.
Health Law
Appreciate and act on professional responsibilities as expressed in law and regulation
Understand the legal framework for self-regulation and healthcare systems and its implications for practice
Understand the disciplinary processes and legal actions physicians engage in.
Population Health: Physician roles in population-based strategies
To be able to describe the health of the population/community
Understand the determinants of health in a population
Develop and identify intervention (prevention and treatment) strategies at the indivudal and popualtion level
Evaluate the effectiveness and efficiency of interventions
Health Practice & Systems
Understand the systems that ensure safe and economical prescribing of drugs and devices
Employ and participate in systems level approaches for quality improvement and the prevention of adverse events
Understand the structure, funding, history and values of healthcare systems and public health in Canada
Understand challenges facing the profession and the healthcare system
Have a practical understanding of a range of practice environments in which physicians provide care and patients access care
Informatics
knowledge exchange
patient safety
quality improvement and performance evaluation
efficiency and accountability in health care
Public health
Consumer health literacy
Orphaned populations/topics
Should we aim to have weeks that look at the "condition" of the week from a vulnerable population perspective?
Geriatrics
Aboriginal Health
Poverty and health
Addictions medicine
Occupational Medicine
Environmental Medicine
Life in medicine
Self-care
Career planning
Evidence-Based Practice and Practice-based evidence
Routinely employ central statistical concepts in clinical practice
"How Doctors Think"
Identify, access and critically appraise relevant biomedical information resources and apply evidence-based principles to the care of patients.