Naandi and communication
by
Michael Dunn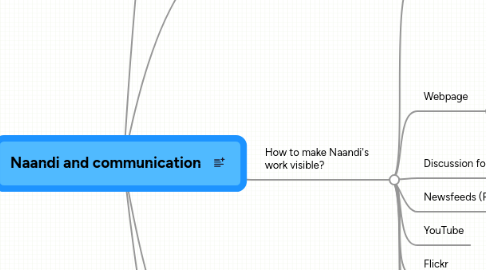 0.0
stars -
0
reviews range from
0
to
5
Naandi and communication
We are familiar with Naandi, but how knowledgable are the general public? This task is to create a strategy and suggested solutions for how Naandi shall communicate with the outside world
Clarify Naandi's current communication strategy
Ask Naandi
Ask Capgemini contact group, Naandi-Com
Ask Anders Lier
Where to find information about Naandi?
How to create awareness of Naandi?
Street interviews in Lillehammer
Marianne's suggestion: http://groups.google.com/group/team-11c/browse_thread/thread/c61857b97fc1a448
Collaboration with Nansen school at Lillehammer
Collaboration with Norad
"Where would you be without education?" webpage
How to receive donations?
JustGiving.com
PayPal
AdAware "donations" via Google advertising on webpages
How to make Naandi's work visible?
Facebook
Webpage
Discussion forum
Newsfeeds (RSS, Feedburner, Google Alerts, etc.)
YouTube
Flickr
Podcasts
Distribute video reports via Miro feed
Newsletter via email subscription
Advertise using Google AdWords
Build on the content of the existing Wikipedia entry
Goals to achieve
Use of new collaboration tools
The suggestions and how the the suggestions are anchored in the general public.
Who have you asked? How did you ask? How did you respond (to the task)?
Specific use of media in the task instructions