L18_FS: Anc. Greece: Spark of Western Civ.
by
Clifton Chandler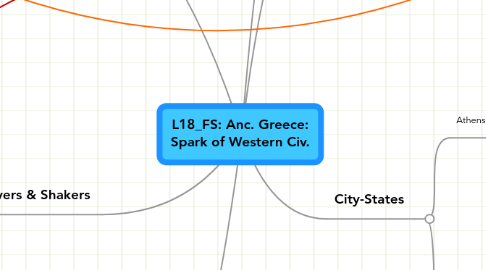 0.0
stars -
0
reviews range from
0
to
5
L18_FS: Anc. Greece: Spark of Western Civ.
Context
20th - 4th C. BCE
Mediterranean Basin
Greece
Birth of Western World View
Geography
Archipelago
Encourages Seafaring, Cultural Diffusion, Commerce Driven
Lack of Mineral Resources
Mountainous
Limited Arable Land, Small Pop. Density, Military Expansion Possible
Independent City States
Mild Climate
Encourages human interaction
Public/ Civic life becomes Important
City-States
During its Golden Age (Height) in 5th C. BCE
Direct Democracy, Assembly, Strict Interpretation of "Citizen", Male, Greek, Athenian, Property Owner, Civic Responsibility
Naval Power, Delian League
'Academically' Open Society- With Limits., Arts, Visual, Painting, Sculpture, Architecture, Performing, Theatrical, Music, Dance, Literary, Drama, Tragedy, Oedipus Rex, Comedy, The Birds, Tales, "Hero", Homeric, Illiad, Odyssey, Philosophy, Science, Math, Astronomy, Biology
Sparta
During its Height in 6th - 4th C. BCE
Oligarchy, Rotating 'Kings', "Tyrannical" Rule
Land Power
'Academically' Closed Society, Military Arts Pursued, Many Religious Rituals
Movers & Shakers
Philosophy
Socrates
Plato
Aristotle
Political/ Military
Solon- 6th C BCE, Canceled debts, Encouraged Cultivation of Cash Crops, Encouraged Expansion of Industry
Cleisthenes- 6th - 5th C BCE, "Father of Greek Democracy"
Pericles- 5th C BCE, Age of Pericles, Statesman, Massive Building Program, Strengthened Navy, Expanded Merchant Fleet- Commerce, Increased Salaried Gov't Employees, Delian League, Funeral Oration, General, Persian War, Golden Age of Greece
Alexander ~337 - 326 BCE, Greco-Macedonian Empire, Military Leadership & Reforms, Death leads to fracturing of Empire, Spread of Hellenism
Historiography
Came close to the modern view of how to study & write history. LangDetectel>en GoogleDicC διερμηνεύω, εξηγώ, ερμηνεύω
Herodotus 6th C BCE
Thucydides 5th C BCE
Bard/ Literary/ Theatre
Homer
Sophocles
Aristophanes
Science-Engineering-Math
Archimedes, Antikythera Mechanism (??)
Heron of Alexandria
Euclid
Concepts
Arete
Body, Olympic Games, Martial Skills, Fame, Honor = Glory
Mind, Core Education, History, Rhetoric, Philosophy
Civics, Political/ Military, Active Citizen, Vote, Community Activism, Soldier, Hoplite, Phalanx, Politician
Philosophical: Viewing in Nature and Man that which is beautiful and then expressing it in an artistic form.
Secularism
Emphasis on the non-religious matters of human society.
Hist. Events
Persian Wars 6th - 5th C BCE
First Xerxes then Darius III
Cyrus the Great
Darius the Great, Battle of Marathon
Xerxes I, Battle of Thermopylae
Peloponnesian War 5th C BCE
Macedonian Conquest