IQBBA® Certified Foundation Level Business Analyst (CFLBA) study guide mind map
by
Mirosław Dąbrowski, COO, Agile&IT Coach, Trainer, Consultant, Product Owner, Entrepreneur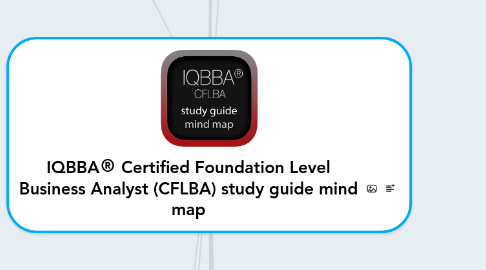 5.0
stars -
34
reviews range from
0
to
5
IQBBA® Certified Foundation Level Business Analyst (CFLBA) study guide mind map
IBAQB® is a registered trademark of the International Business Analysis Qualifications Board. Trademarks are properties of the holders, who are not affiliated with mind map author.
Process Improvement
Process Improvement
Process simulation and redesigning
Tools and Techniques
Modeling tools
Business Analysis techniques
Solution Validation
Assessment
Validation
Requirements Analysis
Requirements Organization
Modeling and Specification
Defining Assumptions and Constraints
Verification and Validation
Quality Assurance
Requirements Elicitation
The concept of Requirements Elicitation
Requirements Scope Management
Establishing requirements baseline
Requirement Traceability
Requirements Documentation
Requirements Communication
The role of a Business Analyst
Requirements Communication process
Requirement acceptance
Stakeholders with the acceptance authority
Standards
Major reasons of neglecting Business Analysis
Time praccure
Exclusive orientation towards fast results
Exclusive fixation on costs
Perceiving documentation or analyzing and understanding business processes as a cost, not added value
Business process within an organization not known / understood as a result:
Products of the business processes not known
Stakeholders not identified or identified only pertially
Business goals or needs not identified
Common pitfalls in Business Analysis
Bad quality of the requirements and / or business needs:
Business Analyst
"A Business Analyst is a person responsible for identifying the business needs of the customer / stakeholders and to determine solutions to business problems."
"A business analyst works as a liaison among stakeholders in order to elicit, analyze, communicate, and validate requirements for changes to business processes, policies, and information systems."
The Business Analyst, ensures that the PRODUCT of the project is well-defined (product scope) throughout the project and meets the targeted business needs through expert requirements management, systems analysis, business analysis, and requirements analysis.
Business Analyst Role
Business Analyst Major tasks
Specific activities of Business Analyst
Business Bnalysts want to achieve the following outcomes
Activities of Business Analyst
Business Analysis in different phases of the Software Development Lifecycle (SDLC)
When a Business Analyst is needed?
Objectives of Business Analysis
Collect and document the business requirements
Design business solutions to resolve the business problems
Assist in the timely completion of the project by providing accurate requirements identification and analysis
Improve efficiency by increasing the quality of requirements identification and analysis and therefore reducing the need for rework and fixes in the later stages of the project
System Analyst
A System Analyst writes technical requirements from the business requirements.
A Systems Analyst role requires a stronger programming skill set and often involves systems design responsibilities.
Requirements
Requirements descriptors / categories
Meaning and purpose of requirements
Classification of requirements
Types of requirements
Managing requirements conflicts
Selecting the appropriate requirements format
Creating a requirements package
Requirements presentation
Formal requirements review
Requirements quality characteristics (ISO 9126)
Requirements Scope
Requirements Scope Management
Requirement Traceability
Requirements Documentation
Construction of a requirement (process)
Requirements Communication
Requirement Acceptance
Requirements Organization
Requirements Decomposition
Glossary
Artefact
Business Analyst
Business Case
Business Goal
Business Need
Business Requirements Elicitation
Business process
Decision Package
Enterprise Analysis
Feasibility Study
Requirement
Requirements Communication
Requirements Communication
Requirements Elicitation
Requirements signoff
Risk Assessment
Traceability
lnterview
Feature
Knowledge Areas in Business Analysis
Enterprise Analysis
Requirements Planningand Management
Requirements Elicitation (Identification)
Requirements Communication
Requirements Analysis and Documentation
Solution Assessment and Validation
Reasons why projects fail
UK Cabinet Office - 8 Common Causes of Project Failure
Based on Standish Report.
Stakeholders
Classification
Stakeholder identification
Stakeholder identification problems
Different stakeholders may have different needs and expectations regarding the planned solution.
Stakeholders value
Enterprise Analysis
Activities of the Enterprise Analysis
Enterprise Analysis is conducted:
Enterprise Analysis activities:
Business Architecture
Risk Assessment
Business process
Business Goal
Business Need
Business Case
Solution scope
Determining solution scope
Techniques to determine solution scope
UML Use Cases
Map is under development, current state is an early ALPHA.
Requierements related standards
ISO 25000 (ISO / IEC 9126)
IEEE 830
IEEE 1233
IEEE 1362
Interactive Glossary
This freeware, non-commercial mind map was carefully hand crafted with passion and love for learning and constant improvement as well for promotion the IQBBA® CFLBA certification and as a learning tool for candidates wanting to gain IQBBA® CFLBA qualification. (please share, like and give feedback - your feedback and comments are my main motivation for further elaboration. THX!)
Business Analysis Process Planning
Impact of a Business Analysis
Requirements Engineering process planning
Configuration and Change Management process
Tools and techniques selection
Competences
Domain knowledge
Soft skills
Facilitation
Innovation, Design and Customer
Role of the innovation
Competition and Market Research
Design Thinking
Basic methods, tools and techniques
Working with the final user