programs, projects; pilot projects,
by
green sudbury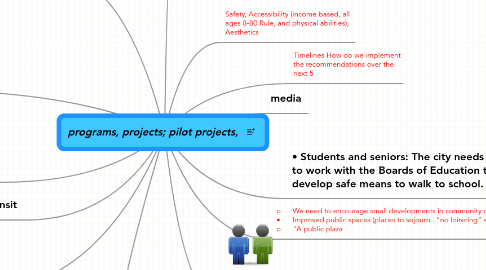 0.0
stars -
0
reviews range from
0
to
5
programs, projects; pilot projects,
Changing attitudes and behaviour; education:  Peter C; Katherine (social marketing) -  Infrastructure:  Daniel; Jason -  Built environment:  Jason, Naomi -  Municipal policy, practice and funding:  Steve, Jeff, Katherine -  transit:  Lilly -  winter:  Lilly -  programs, projects; pilot projects:  Pete P. -  local context:  everyone +  wider input -  the politics of making it happen:  Pete P..
Health
Provide incentives to developers to leave as many existing
Active Living Resources
Sudbury Green Spaces
Climate Change and PLanning
Community through Transportation
Walking.
http://www.iwalktoschool.org/
ymca and seniors walking club!
Walking Support Materials
Doors Open
Peterborough: Monthly iwalk days
http://www.toronto.ca/walking
Walkability Road Show Sudbury
Mobility Ambassadors
mobility plans
Municipalities for Green Mobility
Sustainable Citys Case Studies
... and some great ideas too!
Sustainable Transportation Funding Programs
San Jose PLanning Wiki
nyc StreetsDesign
Complete Streets
Downtown Streetscape
complete streets
Biking
Teens in Cycling
Bike Week
Bike Advisory Recomendations
Urban Biking Videos
Vancouver Bike to Work Week
Share the Road Bike Safety
• Bicycle Rentals/Library - Out of Market Square on Weekends
Transit
Car free day
Car Resources
Car Share Program
New node
Baltimore free Bus
• "Car-Free Sundays/Saturdays"
media
Politics
Critical Mass
Community Involvement Committee
PlanIt Calgary
Collaborative Streets plans
People Make Parks
City Repair
Civic Engagement Place Matters
Safety, Accessibility (income based, all ages 8-80 Rule, and physical abilities), Aesthetics
Timelines How do we implement the recommendations over the next 5
o We need to encourage small developments in community centres in order to encourage networking and interactions among individuals residing in the same geographic area • Improved public spaces (places to sojourn..."no loitering" signs) Public Plaza program o "A public plaza
facilitate both walking and cycling in the city, additional pedestrian amenities such as benches or shade trees
• A high traffic and high profile flagship project could generate excitement and support for travelling by active methods (Metrolinx 2009). o Where can we put a flagship lane in Sudbury? - Road Diet (Sault Ste Marie rerouted truck and eliminated them from the main core of the city/waterfront)  Elm Street - Would solve Transit Terminal issues as well.
• Close Cedar, Durham and Larch to motorized traffic every Sunday from June 1 to Oct 31.
• Students and seniors: The city needs to work with the Boards of Education to develop safe means to walk to school.