Waste and Consumption
by
Jan Schmiedgen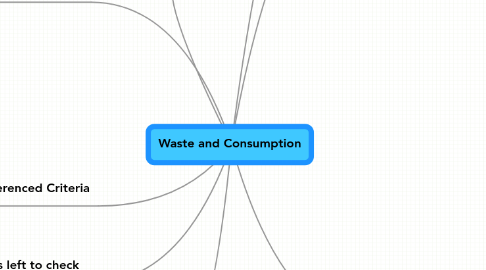 5.0
stars -
1
reviews range from
0
to
5
Waste and Consumption
climate change, floods
How to get rid of waste and rethink consumption?
Meaning: What waste means for the people in ....?
General Waste related Observations (Contextmapping)
Activities and Practices?
Values, Attitudes, Norms & Beliefs?
Environment
Needs, Wishes, Experiences?
Pattern of Behavior?
Improvised and surprising Solutions?
Historical Era Analysis: How Waste is perceived in the context of time?
When DE/CA/AT/RU established the first landfills?
Cultural barriers to transition?
people getting ill... etc.
YouTube Playlist with Waste Initiatives http://www.youtube.com/view_play_list?p=9DF5A77F9B2A894C
take radical user perspective (Ask other people, how they deal with ...)
How can we overcome the "I am not concerned" attitude?
adress problem + generate economy --> evolve DT-Approach
"Culture generates Economy" (or the other way around)
must be rooted in culture
must be connected to social or climate change
transform existing businesses / generate resp. explore new opportunities
Schneider: I want to learn something! --> show how to use and further develop the methodology "Show how DT can contribute" --> opportunity arises from observation
research from different perspectives / find smallest common denominator
Inluence Human Behavior
animate a certain behavior (funny bins)
raise awareness (waste art)
make people conscious
Approaches
reuse (second hand clothes, cars to africa)
repurpose (Earthship, use the same for different)
repair (repairment shops, mobile-phones in Africa)
recycle (upcycle, downcycle, etc.)
reduce (energy-reduction, less consumption)
disposal
Subject
Industry Solution (Businesses)
Individual Initiatives (one Person)
Private Initiatives (NPO, NGO, Community Initiatives (in villages etc.))
Governmental Initiatives and Directives
Causes/Trigger/Motivations for Initiatives
event based (natural disaster: e.g. New Orleans)
forced by government (Law, regulations, directives)
altruism
Like
fun, original, newness, creativity, innovation, surprise, feasible
Dislike
Corny, "Limited Opportunity for Application"
Schneider Mail extern: globalwasteideas.org intern: garbage clan
Description: Information exchange of "uncorny" waste initiatives and creative/innovative ideas on consumption.
Vision: The establishment of a worldwide idea-sharing platform for waste initiatives with a high degree of novelty.