Individual work # 6 (Nastia Varyvoda)
by N a s t i a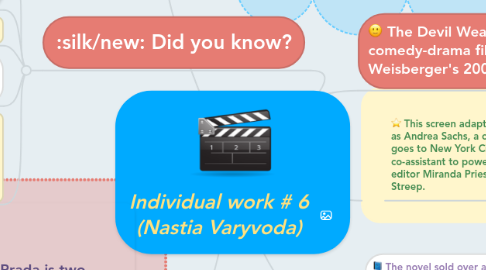 1. The Devil Wears Prada is a 2006 comedy-drama film based on Lauren Weisberger's 2003 novel of the same name.
2. This screen adaptation stars Anne Hathaway as Andrea Sachs, a college graduate who goes to New York City and lands a job as a co-assistant to powerful fashion magazine editor Miranda Priestly, played by Meryl Streep.
3. Taglines
3.1. Hell On Heels.
3.2. Meet Andy Sachs. A million girls would kill to have her job. She's not one of them.
3.3. High fashion, low cunning - and the boss from hell.
4. Did you know?
4.1. Many fashion designers allowed their clothes and accessories to be used in the film, making it the most expensively-costumed film in history.
4.2. Meryl Streep donated her wardrobe to a charity auction.
4.3. Runway is a fictitious version of Vogue.
4.4. In the book, Andy's boyfriend is Alex the teacher. In the movie, he is Nate the chef.
4.5. The idea of having Miranda appear without any make-up in the scene where she opens up to Andrea and worries about the effect of her divorce's public disclosure on her daughters was Meryl Streep's idea.
5. The novel sold over a million copies, spent ten weeks at No 1 and spent a year on the New York Times bestseller list; the film was also a box-office smash hit. The novel has since been published in 40 languages.
6. I think, the Devil Wears Prada is two films in one: a caustic, energetic satire of the fashion world and a cautionary melodrama.